Thursday Super Lotto
Thursday Super Lotto
Thursday Super Lotto is a popular Indian Lottery game run by the Pan India Network Ltd. Jackpots start at Rs. 2 crores and will rollover to the following draw if there are no top prize winners. This lottery currently holds the record for the largest Playwin jackpot when a resident of Kolkata won 172.9 million rupees on May 25th 2006.
The Thursday Super Lotto and Saturday Super Lotto, while sharing a similar name, each have their own draws, results and prize funds.
How to Play Thursday Super Lotto
To play, simply select six numbers from the range of 1 to 49 or have your numbers randomly selected using the Lucky Pick facility. To win the jackpot you need to match all six numbers drawn but you can also win prizes for matching as few as three numbers. In the event that more than one player wins the jackpot, the top prize will be shared equally between the top prize winners.
The prize tiers, winning combinations and odds of winning a prize are as follows:
Thursday Superlotto Prizes
Match
Odds
Prize (Rs)
6
1 in 13,983,816
2 Crores
5
1 in 54,201
50,000
4
1 in 1,032
500
3
1 in 57
50
Overall odds of winning any prize: 1 in 54
Draws are held every Thursday night between 22.00 and 22.30 IST and are shown on television channel Zee Zing.
Buying Thursday Super Lotto Tickets
Online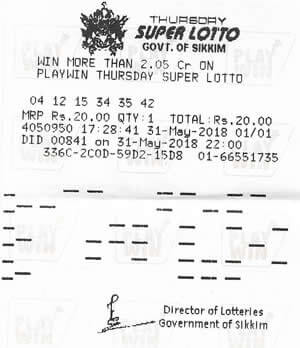 You can purchase Thursday Super Lotto tickets online from the official Playwin Lotto website using your Playwin Lotto card. The cards, which are available to buy from authorised lottery retailers, are preloaded with values of Rs. 200, 500, 1000 and 5000 and are the only payment method for all online ticket purchases.
To buy your tickets online, simply select six numbers or tick the Lucky Pick box to have the numbers randomly selected for you, and choose the number of draws you wish to play. You can play up to a maximum of seven draws in advance.
Buying your tickets online has a number of significant benefits including storing your ticket safely online, the ability to purchase tickets up to seven draws in advance and any winnings paid directly to your Playwin account for you to redeem or use on future lottery ticket purchases.
Retailer
Tickets can also be purchased in person from an authorised retailer. Simply fill in the numbers on the Thursday Super Lotto playslip, along with the number of draws you wish to play, and hand the ticket to the retailer who will then process the playslip and provide you with a proof of purchase. If you do decide to buy ticket(s) from a retailer, sign the back of the ticket and keep it safe as you will need it to claim any prizes you win.
Thursday Super Lotto prizes are valid for a period of 90 days so we would strongly advise that you check your ticket(s) as soon as possible after each draw and claim any prizes you have won immediately.