Holi Bumper Lottery Results
Punjab Holi Bumper Lottery Results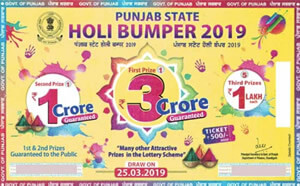 The Holi Bumper Lottery in Punjab is drawn in March what better way to celebrate the victory of good over evil than by winning the first prize of Rs 3 Crores? There's also one second prize of Rs 1 crore and no less than five third prizes of Rs 1 Lakh each.
Tickets cost Rs 500 each
Advertisements
Do you want to play lotteries online? Download a VPN and follow the instructions here.
Punjab Holi Bumper Results for 2019
The 2019 drawing of this Holi bumper lottery takes place on 25.03.2019 with the numbers being drawn at the Camp Office, Ludhiana like pretty-much all bumper draws in the Punjab State.
Holi Bumper Results 2019

| Rank | Ticket Numbers | Lohri Prize Amount (Rs) |
| --- | --- | --- |
| 1st | 433190 | 3 crore |
| 2nd | 468480 | 1 crore |
| 3rd | 492289, 397640, 216040, 125808, 180911 | 1,00,000 |
| 4th | Ending with 20171, 90141, 27976, 80729 | 20,000 |
| 5th | Ending with 7119, 5808, 8518, 7213, 0634, 0355, 2279, 9449, 9733, 2691 | 2,000 |
| 6th | Ending with 0036, 0477, 1228, 1921, 2422, 3165, 3664, 4469, 4894, 5734, 6267, 6903, 7823, 8199, 8818, 9380, 0052, 0488, 1248, 1948, 2473, 3239, 3708, 4497, 4922, 5741, 6332, 6945, 7836, 8232, 8825, 9388, 0060, 0508, 1309, 1956, 2481, 3297, 3724, 4564, 5017, 5747, 6382, 6964, 7861, 8244, 8837, 9461, 0080, 0537, 1312, 1994, 2482, 3309, 3784, 4602, 5034, 5763, 6392, 7034, 7878, 8249, 8943, 9465, 0111, 0568, 1316, 2017, 2484, 3340, 3791, 4646, 5073, 5790, 6430, 7110, 7901, 8260, 9040, 9467, 0117, 0600, 1342, 2090, 2490, 3347, 3997, 4653, 5152, 5810, 6462, 7216, 7909, 8271, 9045, 9507, 0126, 0610, 1347, 2107, 2589, 3356, 4001, 4669, 5185, 5832, 6507, 7232, 7920, 8301, 9064, 9546, 0172, 0652, 1377, 2124, 2619, 3358, 4054, 4671, 5192, 5835, 6532, 7235, 7923, 8304, 9068, 9553, 0199, 0698, 1408, 2149, 2625, 3360, 4074, 4674, 5213, 5840, 6544, 7264, 7942, 8310, 9073, 9559, 0206, 0715, 1462, 2170, 2672, 3366, 4106, 4686, 5231, 5858, 6552, 7274, 7961, 8325, 9089, 9578, 0219, 0898, 1472, 2215, 2678, 3371, 4108, 4687, 5292, 5919, 6589, 7323, 7976, 8343, 9113, 9656, 0255, 0917, 1478, 2222, 2681, 3372, 4125, 4709, 5358, 5942, 6641, 7397, 8026, 8352, 9192, 9662, 0262, 0936, 1519, 2247, 2703, 3389, 4184, 4712, 5385, 5986, 6643, 7449, 8031, 8374, 9202, 9713, 0264, 0944, 1584, 2268, 2704, 3407, 4197, 4716, 5389, 6004, 6653, 7469, 8034, 8414, 9232, 9754, 0311, 0966, 1612, 2269, 2717, 3413, 4229, 4740, 5433, 6010, 6669, 7544, 8043, 8425, 9233, 9786, 0316, 0975, 1661, 2284, 2801, 3424, 4235, 4744, 5458, 6016, 6681, 7549, 8048, 8570, 9245, 9834, 0342, 1002, 1747, 2292, 2850, 3443, 4242, 4773, 5496, 6033, 6698, 7578, 8090, 8618, 9276, 9839, 0369, 1047, 1786, 2303, 2858, 3469, 4300, 4787, 5497, 6043, 6719, 7598, 8101, 8661, 9278, 9854, 0378, 1052, 1801, 2320, 2961, 3495, 4328, 4789, 5503, 6065, 6726, 7642, 8109, 8662, 9285, 9877, 0403, 1082, 1809, 2324, 2993, 3505, 4360, 4807, 5523, 6093, 6769, 7660, 8132, 8678, 9314, 9883, 0411, 1123, 1849, 2326, 3004, 3511, 4382, 4826, 5620, 6130, 6810, 7668, 8145, 8695, 9321, 9922, 0416, 1197, 1891, 2335, 3052, 3515, 4393, 4868, 5648, 6158, 6825, 7680, 8153, 8716, 9324, 9926, 0418, 1217, 1903, 2354, 3089, 3535, 4398, 4872, 5690, 6164, 6829, 7690, 8171, 8725, 9333, 9943, 0430, 1222, 1906, 2400, 3108, 3543, 4410, 4881, 5700, 6218, 6852, 7754, 8184, 8793, 9345, 9953, 0475, 1227, 1912, 2421, 3123, 3647, 4438, 4884, 5710, 6263, 6895, 7815, 8198, 8795, 9377, 9981 | 500 |