Biggest Winners
Biggest Lottery Winners in India
Find out about some of India's biggest lottery winners below. Anyone can become a crorepati – as long as you purchase an entry, you have as much chance of winning as anyone else. Indian lottery history shows that players have enjoyed great fortune regardless of their social class or where they are from.
Many domestic lotteries offer gigantic jackpots, while popular games such as the Dubai Lottery and the Big Ticket Lottery have also created big Indian winners. Nowadays, it is even possible to take part in international games such as Powerball or EuroMillions from India.
Indian Lotteries
Read some of the stories from India's biggest lottery winners:
Porunnan Rajan
Prize Money won - INR 12,00,00,000
Lottery Game - Kerala Christmas New Year Bumper
Date - 17th January 2021
Place - Kerala
Porunnan Rajan, from Puralimala Kurichia colony at Malur Kaithachala, started his day with a trip to the bank to ask for a loan and ended it with a ticket worth ₹12 Crore. He decided to take a chance on the Kerala State Lottery's 2020 Christmas New Year Bumper draw and purchased an entry from Payyan Agencies in Koothuparamba. The lucky winner, a rubber tapper by trade, could not believe it when he discovered that his ticket, Number ST 269609, had got the first prize. He said it would allow him to settle his loans, finish working on his house, help his daughter with her studies and help the needy.
Sharafuddin
Prize Money won - INR 12,00,00,000
Lottery Game - Kerala Christmas New Year Bumper
Date - 10th February 2020
Place - Kerala
The top prize in the Kerala State Lottery's Christmas New Year Bumper draw in 2021 went to a lottery ticket seller named Sharafuddin. He had been working in Tenkasi, Tamil Nadu, but was originally from Kerala and was overjoyed to become a crorepati after struggling during the Covid-19 pandemic. He purchased tickets from the Bharani lottery agency every day and sold them to customers, but he had a number of entries in his own batch that went unsold, including the winner. Sharafuddin, who had previously worked in construction, said that he wanted to use the money to build a house and start a small business.
Ananthu Vijayan
Prize Money won - INR 12,00,00,000
Lottery Game - Kerala Thiruvonam Bumper Lottery
Date - 21st September 2020
Place - Kerala
A young temple worker from Idukki district of Kerala, Ananthu Vijayan, landed the top prize in the Thiruvonam Bumper Lottery on 21st September 2020. He was a regular lottery player and bought his ticket, TB173964, from an agent a few days earlier. He said he thought someone was 'playing a prank' on him when he got a call to say he had won. Vijayan declared that he wanted to buy a small house near Ernakulam and set up a business with his father.
Akshit Kumar Jain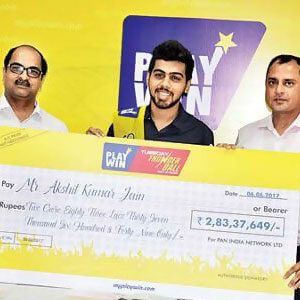 Prize Money won- INR 2,83,00,000
Lottery Game- 96th ThunderBall Lotto Jackpot winner
Date- 6th June 2017
Place- Mumbai
Akshit Kumar Jain is the youngest Playwin lotto winner who won the jackpot money of INR 2,83,00,000 in 2017.
Saraswati Bhagre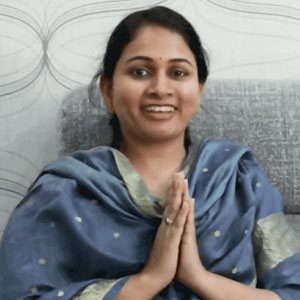 Prize Money won- INR 1,50,00,000
Lottery Game- Sikkim State's Rajshree PowerBall Lotto Game
Date- 13th July 2018
Place- Pune
Saraswati is a housewife from Pune who invested in Rajshree PowerBall Lotto Game promoted by the Sikkim State and won the jackpot of INR 1,50,00,000 in 2018.
Big Ticket and Dubai Lottery
The Big Ticket and Dubai Lottery games, based out of airports in the United Arab Emirates (UAE), have also produced a number of big Indian winners.
Abdussalam N.V won a jackpot worth ₹39 Crore (AED 20 million) on the Big Ticket Lottery in January 2021, becoming one of India's biggest-ever lottery winners. Originally from the Kozhikode district of Kerala, he had been working in Oman when he became a crorepati. Lottery organisers had a bit of trouble getting hold of him straight away as he had mistakenly provided the Indian telephone code instead of the one for Oman, but they soon tracked him down to give him the good news.
Another Big Ticket win went to a syndicate of work colleagues back in November 2019. Dsreenu Sreedharan Nair, from Chengannur in India, teamed up with 21 fellow employees from his job in Jebel Ali. They won a jackpot of ₹28 Crore (AED 15 million) in the Big Ticket Series 209 draw at Abu Dhabi International Airport.Nair, who had lived in the UAE for six years, said the big win would go a long way to helping his family's life back home.
Find out more about the Big Ticket Lottery and the Dubai Lottery, including more about the big jackpots on offer and other Indian winners.