Lotto.in Free iPhone App
Lotto.in Free iPhone App
Find out everything you need to know about your favourite lottery games and download the FREE Lotto.in iPhone app from the app store now.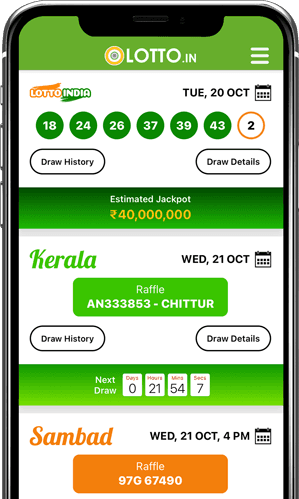 Whether you play Jaldi 5, Jaldi 5 Double, Thunderball and Saturday Super Lotto or one of the massive international lotteries like Powerball, Mega Millions or EuroMillions, you can download the free Lotto.in iPhone app and get access to a range of features:
Indian lottery results for the past 180 days as well as those for the major international games.
Full prize breakdowns for EuroMillions, Mega Millions and Powerball draws in the past 180 days.
A ticket checker that will look through all your entries from the Indian lotteries and other big games from round the world and tell you how many numbers you matched.
Mega Millions, Powerball and EuroMillions players will even find out exactly how much they have won from the ticket checker.
International lottery prizes displayed in rupees.
A number generator for ensuring you play a truly random selection of balls in your favourite lottery, such as Jaldi 5 or Saturday Super Lotto.
Every single result in the history of each Indian and global lottery game.
Statistics on which balls have been drawn the most and which have appeared the least in the most popular lotteries.