Rakhi Bumper Results
Rakhi Bumper Lottery Results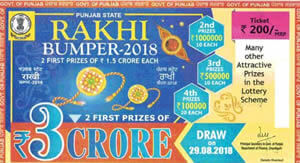 The Rakhi Bumper Lottery in Punjab is drawn each year to celebrate the Hindu festival of Raksha Bandhan, also known as Rakshabandhan or Saluno. The festival takes place on the full-moon day in the lunar month of Shravana and celebrates the bond between siblings. However, the bumper lottery draw may be a few days before or after the official celebrations.
A rakhi bracelet of love is nice to have, but a big win on the Bumper lottery would also be special.
The top-level results and prizes are given in the tables below. If you want the full Rakhi results, including lower tier prizes, please click on the download link next to the results-year that you require.
Rakhi Bumper Results for 2018
The 2018 drawing of this classic bumper lottery took place on 29-08-2018 with the numbers being drawn at the Camp Office, Ludhiana like pretty-much all bumper draws in the Punjab State.
| Rank | Ticket Numbers | Rakhi Prize Amount (Rs) |
| --- | --- | --- |
| 1st | A-207485, B-660446 | 1.50 core |
| 2nd | A-101392, A-135183, A-073314, A-597879, A-196330, B-745755, B-122126, B-223884, A-984694, B-622084 | 10 Lakh |
| 3rd | B-335126, A-735148, B-895461, A-718234, A-875851, B-002991, A-470622, B-876280, A-405394, A-223432 | 5 Lakh |
| 4th | Ending with 156215, 195399, 060824, 361326, 041041, 928323, 597410, 140430, 514978, 025834 | 1 Lakh |
| 5th | Ending with 348525, 421616, 671360, 081208, 915786, 838726, 149605, 570864, 345974, 923029, 293599, 481784, 875732, 642905, 022116, 862908, 864117, 574323, 031629, 515185, | 50,000 |
| 6th | Ending with 379803, 805310, 436161, 872729, 247039, 818585, 163462, 959044, 754022, 072135, 074235, 981602, 735485, 151262, 843920, 480307, 441326, 552027, 457135, 579085 | 20,000 |
| 7th | Ending with 7872, 2716, 5540, 5844, 3007, 7373, 5648, 2892, 8946, 6383, 3552, 7834, 3358, 2559, 3160, 6178, 9640, 5002, 2591, 4170 | 1,000 |
Rakhi Bumper Results for 2016
The 2016 version of the Rakhi Bumper Lottery draw took place on 24/8/2016 and the top prize was 1.50 crore with 1lakh for two consolation winners
| Rank | Ticket Numbers | Rakhi Prize Amount (Rs) |
| --- | --- | --- |
| 1st | A-466494, B-548235 | 1.50 core |
| Consolation Prize | B-466494, A-548235 | 1.50 Lakh |
| 2nd | A-481903, B-335118, A-724866, A-511586, B-404271, B-903896, B-611646, B-020896, A-283375, A-689870 | 12.5 Lakh |
| 3rd | B-761603, A-885812, B-004450, B-976089, A-854245, A-726441, A-785543, B-822964, B-824261, B-947310 | 5 Lakh |
| 4th | Ending with 428296, 131331, 713902, 392423, 938605, 807295, 831318, 880940, 730339, 213870 | 1 Lakh |
| 5th | Ending with 018194, 834312, 694481, 873855, 228694, 737277, 835295, 055514, 276783, 021428, 614841, 533463, 647703, 408097, 127141, 640780, 212527, 894945, 177521, 591348 | 50,000 |