Big Ticket
Big Ticket
The Big Ticket Lottery raffle operates out of Abu Dhabi International Airport and gives players the opportunity to win millions of dirhams (AED) as well as dream cars such as Land Rovers, BMWs and Corvettes. Draws take place once a month and tickets can be bought online or from selected locations in UAE.
How to Play The Big Ticket
Entering the Big Ticket Lottery is easy, whether you are playing online or travelling through the United Arab Emirates.
You can buy tickets from ticket counters at Abu Dhabi International Airport or Al Ain Duty Free, You will need to present valid photo identification, such as a passport. Your ticket will be issued straight away.

Powerball
Saturday 9th December 2023
$468 Million
Did you know you can play Powerball online from USA? Just click the button below!
Time left:
Play Now
You can take part in the game online even if you live outside the UAE, so it is available in India and other countries. Online tickets will be delivered to you via email within 24 hours. If you are playing online, you just need to register for an account on the official website. You will need to provide details from a valid photo identification, such as a passport number.
Tickets for the cash draws cost AED 500 (approximately INR 10,000). If you buy two tickets in the same transaction you get a third free.
How Draws Work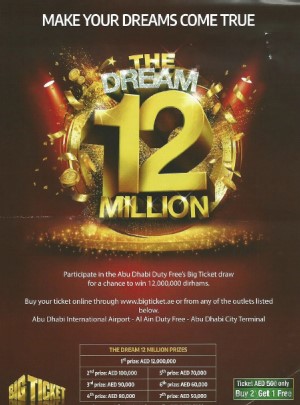 Draws take place once a month, specifically on the 3rd. The schedule is published in advance on the Big Ticket website. Special draws are only scheduled after all of the tickets have been sold. Draws have traditionally been conducted in the Arrivals Hall at Abu Dhabi International Airport, supervised by Big Ticket staff and airport officials. However, draws went online due to the coronavirus pandemic.
For each Big Ticket entry you buy, you receive a unique six-digit raffle number. On the day of each draw, all purchased raffle numbers are placed in a drum and winning tickets are selected at random. One ticket will be drawn as the winner of the jackpot, and there are various smaller cash prizes available too. The top prize is advertised in advance and can be worth as much as AED 20 million (around INR 40 Crore).
There is no limit to the number of tickets that can be sold for cash draws. The odds of winning a prize vary depending on how many tickets are sold.
Weekly Draws
As the name suggests, weekly draws take place every seven or eight days to make sure they don't clash with the monthly draws on the third of every month. There will only be one winner chosen in the draw, so it really is a big honour to be a winner! All the tickets sold in the week prior to the draw will be entered into a drum to win a prize of varying amount, but will usually be AED 250,000 or more depending on the monthly promotion.
You don't need to do anything specific to enter the weekly draws other than buy a ticket for the main Big Ticket draw. Your ticket will be entered into the respective monthly draw alongside that week's weekly draw, so you get two chances to be a Big Ticket winner. You could even end up winning a weekly prize and a prize in the monthly main draw!
Dream Car Giveaways
Alongside the monthly cash draws, the Big Ticket Lottery also gives away other luxury prizes. Dream Car draws take place every two months. The top prize is a car such as a Range Rover or Porsche. The prize will be advertised in advance.
The number of tickets available is also announced when they go on sale. The cost of entry depends on the value of the prize but it will either be AED 50, 100 or 200 (around INR 1,000, INR 2,000 or INR 4,000).
How to Claim your Prize
You can claim your prize from the Etihad Catering Office at Abu Dhabi International Airport. The office is open from 8:00am to 6:00pm Gulf Standard Time (GST). To claim a prize, you will need to present the photo identification that you used to buy your ticket.
If you live outside of the United Arab Emirates you can arrange for your winnings to be paid via bank transfer. This is subject to rigorous security checks and on the condition that you provide the following documentation:
A copy of your passport, certified by the UAE embassy in your country of residence
Bank address, account number, swift code or sort code, and a letter from the bank confirming that you are the owner of the account
A letter signed by you and addressed to DFS (the lottery operator) confirming that you want the cash to be transferred to the requested bank account
The original winning ticket if purchased in-store, or a print out of your e-ticket if purchased online
Contact details
If you win a dream car but live outside of the UAE, it is your responsibility to arrange its export and to pay any associated costs. The lottery provider will not transport the car on your behalf. Cars won in the Big Ticket lottery cannot be exchanged for their equivalent cash value. As the registered owner, you would be free to sell or trade the car at your discretion but the lottery provider does not guarantee its value upon resale.
Winners
The Big Ticket Lottery has given away millions of cash prizes since it was launched in 1992, including jackpot prizes of up to AED 20 million (around INR 40 Crore). Big winners have come from locations all around the world, including many from India.
Mohan Kumar Chandradas was one of the lucky winners, landing AED 10 million (almost INR 20 Crore) in the Big 10 Million Series 13 raffle held in Abu Dhabi in March 2020. Following the outbreak of Covid-19, the draw was broadcast over Facebook instead of being open to the public as usual. Chandradas was out on a shopping trip with friends when he received a call to tell him he was the jackpot winner. He said: "You sure? Ok, thank you, thank you very much!"
In January 2021, Abdussalam N.V. won a payout of AED 20 million (over INR 39 Crore), becoming one of the Big Ticket Lottery's biggest winners. He could not initially be reached as he had mistakenly provided the Indian telephone code rather than the one for Oman, where he was based for work. Abdussalam, who hails from the Kozhikode district of Kerala, said he would be sharing his fortune with friends and family. Having recently become a father for the second time, he was looking forward to welcoming his wife and children back to Oman after they had returned to Kerala during the pandemic.
Big Ticket FAQs
1. How old do I have to be to play?
You must be at least 18 to play the Big Ticket Lottery. You can purchase tickets for a child under the age of 18 if you are their legal guardian and you provide a valid ID or passport for you both.
To Top
2. How much does it cost to play Big Ticket?
Tickets for cash draws cost AED 500 (around INR 10,000). The price of tickets for special draws, such as dream car draws, varies between AED 50, 100 and 200.
To Top
3. When and where do the draws take place?
Big Ticket draws take place on the third day of every month. Draws are traditionally conducted in the Arrivals Hall of Abu Dhabi International Airport in the UAE. Weekly draws take place every seven or eight days to make sure they dont clash with the monthly draw on the 3rd of every month.
To Top
4. Do I pay tax on Big Ticket winnings?
Prizes will be subject to the tax laws in your country of residence. Players do not have to pay VAT on lottery tickets as this is paid by the provider.
To Top
5. What do I do if I lose my ticket?
Tickets bought online or computerised tickets purchased from the selected locations in Abu Dhabi can usually be replaced. Simply email help@bigticket.ae to report the loss of your ticket. If you were provided with a manual ticket, additional steps will be taken to verify that you are the rightful owner.
To Top
6. When did the Big Ticket Lottery start?
Big Ticket Abu Dhabi first took place in 1992 with the tagline "Dream Big With Big Ticket." The original prize on offer was AED 1 million (around INR 2 Crore).
To Top