Big Ticket
Big Ticket
Big Ticket Lottery raffle operates out of Abu Dhabi International Airport and gives players the opportunity to win millions of dirhams as well as dream cars such as Land Rovers, BMWs and Corvettes. Draws take place once a month and tickets can be bought online or from selected locations in UAE.
How to Play The Big Ticket
For each Big Ticket entry you buy, you will be given a unique six-digit raffle number. On the day of each draw, all purchased raffle numbers are placed in a drum and winning tickets are selected at random. One ticket will be drawn as the winner of the jackpot or the dream prize, and there are various smaller cash prizes available too.
There is no limit to the number of tickets that can be sold for cash draws but tickets for special draws, such as the dream car draws, are limited. The number of tickets available is announced when they go on sale.
Want to play the Lottery online? Download a VPN and follow the instructions here.
Draws take place once a month but are not scheduled for a specific date or time. The schedule will be published in advance on the Big Ticket website. Special draws are only scheduled after all of the tickets have been sold. Draws are conducted in the Arrivals Hall at Abu Dhabi International Airport, supervised by Big Ticket staff and airport officials.
The odds of winning a prize vary depending on how many tickets are sold.
Buying Tickets?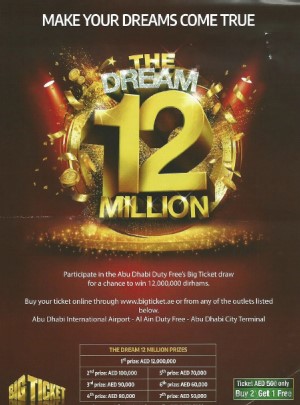 If you live in the United Arab Emirates (UAE), you can play online by registering for an account on the official website. You will need to provide details of a valid photo identification, such as a passport number. This ID will be required to claim any prizes you win, so it is important that you enter your details correctly. After you have registered, you will be able to purchase tickets using a debit or credit card, or Cash on Delivery (COD).
Online tickets will be delivered to you via email within 24 hours. Those purchased during the first week of the month may take between 24-48 hours to be delivered, due to the high volume of ticket purchases at the end of each month and the time it takes to process them.
You can also buy tickets from Abu Dhabi International Airport, Al Ain Duty Free, Ghweifat Duty Free, Abu Dhabi City Terminal and the ADNEC Expo Check-In. You will need to present valid photo identification, such as a passport. Your ticket will be issued straight away. Non-residents of the UAE cannot play online but can buy tickets from these locations.
Tickets for the cash draws cost AED 500, while tickets for the dream car draws vary depending on the value of the prize. These tickets will cost either AED 50, 100 or 200. If you buy two tickets in the same transaction you get a third free.
How to Claim your Prize
Winners will be invited to claim their prize from the Etihad Catering Office at Abu Dhabi International Airport. The office is open from 8:00am to 6:00pm Gulf Standard Time (GST). To claim a prize, you will need to present the photo identification that you used to buy your ticket.
If you live outside of the United Arab Emirates you can arrange for your winnings to be paid via bank transfer. This is subject to rigorous security checks and on the condition that you provide the following documentation:
A copy of your passport, certified by the UAE embassy in your country of residence
Bank address, account number, swift code or sort code, and a letter from the bank confirming that you are the owner of the account
A letter signed by you and addressed to DFS (the lottery operator) confirming that you want the cash to be transferred to the requested bank account
The original winning ticket if purchased in-store, or a print out of your e-ticket if purchased online
Contact details
If you win a dream car but live outside of the UAE, it is your responsibility to arrange its export and to pay any associated costs. The lottery provider will not transport the car on your behalf. Cars won in the Big Ticket lottery cannot be exchanged for their equivalent cash value. As the registered owner, you would be free to sell or trade the car at your discretion but the lottery provider does not guarantee its value upon resale.
Big Ticket FAQs
1. How old do I have to be to play?
There is no minimum age to play Big Ticket but you must have a valid passport to enter.
To Top
2. How much is the Big Ticket?
Tickets for cash draws cost AED 500. The price of tickets for special draws, such as dream car draws, varies between AED 50, 100 and 200.
To Top
3. When and where do the draws take place?
Big Ticket draws take place every month, but not on any specific date. Dates and times are announced on the Big Ticket website in advance. Draws are conducted in the Arrivals Hall of Abu Dhabi International Airport in the UAE.
To Top
4. What is the difference between cash draws and special draws?
In cash draws, a top prize worth millions of dirhams is on offer, in addition to smaller cash prizes. The number of tickets that can be sold for these draws is not limited and draws are usually announced several months in advance.
Special draws offer top prizes of luxury cars and dream holidays, as well as smaller cash prizes. Tickets are limited and draws are only scheduled once all the tickets have been sold.
To Top
5. What are Weekend and Countdown Bonanzas?
Weekend Bonanzas offer you the chance to win free lottery tickets. If you take part in the 'buy 2 get 1 free' ticket promotion between Thursday and Saturday, you will be entered into a special mini-draw on the following Sunday. Ten names will be drawn and each one will receive three more free tickets for the Big Ticket draw they entered.
The Countdown Bonanza works in exactly the same way, except that it takes place over the last five days of the month. Not all draws have a Weekend or Countdown Bonanza; the promotions will be announced in advance on the Big Ticket website and social media channels.
To Top
6. Do I pay tax on Big Ticket winnings?
Prizes will be subject to the tax laws in your country of residence. Players do not have to pay VAT on lottery tickets as this is paid by the provider.
To Top
7. What do I do if I lose my ticket?
Tickets bought online or computerised tickets purchased from the selected locations in Abu Dhabi can usually be replaced. Simply email help@bigticket.ae to report the loss of your ticket. If you were provided with a manual ticket, additional steps will be taken to verify that you are the rightful owner.
To Top
8. When did Big Ticket start?
Big Ticket Abu Dhabi first took place in 1992 with the tagline "Dream Big With Big Ticket." The original prize on offer was one million dirhams.
To Top