Dubai Lottery
Dubai Lottery
The Dubai Lottery, also called the Dubai Duty Free Millennium Millionaire Lottery or DDF Lottery, offers a top prize worth US $1 million (over ₹7 Crore) and is famous worldwide due to the favourable odds of winning.
It was launched way back in 1999 to reward travellers with extra cash before they continue their journey. It has since gone from strength to strength as a lottery that can be played both in the UAE and online, although it continues to operate primarily from the Dubai International Airport.
The odds of winning the jackpot are 1 in 5,000. There is no cap on the number of tickets you can buy, so you can increase your chances by purchasing more tickets.
How to play the Millennium Millionaire Lottery
To play the Dubai Lottery, you just have to purchase a ticket. Unlike many lotteries, you don't have to travel to the country where the game is held.

Powerball
Saturday 9th December 2023
$468 Million
Did you know you can play Powerball online from USA? Just click the button below!
Time left:
Play Now
You can take part by logging on to the Dubai Lottery website and creating an account. You will have to provide details of your passport for registering on the official website. After registering, you can purchase a ticket using a debit or credit card.
DDF issues a digital ticket via the registered email address. For those who don't have a debit/credit card, the Dubai Lottery provides the option of telegraphic transfer. One good thing about online transactions is that anyone can purchase the ticket, and there is no cap on who can and who cannot.
You can also buy tickets from the Irish Village Shop and FS counters at Jumeirah Beach Hotel in Dubai.
How The Draws Work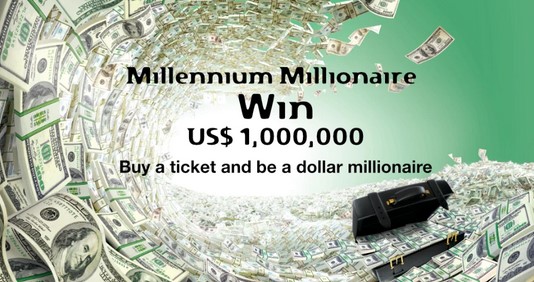 Each ticket carries a unique identification number. On the day of the draw, all the numbers are pooled together, and a number is picked at random. The winner is the person whose ticket number is drawn.
There is no specified date for draws, but they take place around every two to three weeks. The schedule showing the next draw date is published below.
Next draw date: Monday 1st January 0001.
There are only 5,000 tickets sold for each promotion, so for each ticket you buy you have a 1-in-5,000 chance of winning. These odds are far more favourable than most international lotteries and other raffle draws such as Big Ticket where you can get well over 5,000 entries each time.
Draws are conducted at the Dubai Duty Free shopping complex at the Dubai International Airport.
Finest Surprise Draws
Finest Surprise draws give you the chance to win a car or motorbike. They have been held since 1989, predating the Millennium Millionaire Lottery by ten years. It is the longest-running duty free promotion in the world.
The promotion initially launched just as the Finest Surprise Car, giving away a car such as a BMW, Mercedes Benz, Audi, Porsche, Jaguar, Range Rover, or even a Bentley, McLaren or Aston Martin.
The number of tickets is limited in each draw - usually 1,300 or 2,300 – and the cost per entry is US$139 (roughly ₹10,000). One winner is selected at random to receive the car.
The Finest Surprise Bike promotion was introduced in 2002, with tickets costing US$28 (roughly ₹2,000) and limited to 1,000 in each series. The prize in each draw is either the latest model of BMW or Indian motorbike.
Dubai Lottery Winners
The Millennium Millionaire Lottery has been producing winners of the US $1 million jackpot since it was launched in 1999. Many of the lucky players have been from India, who have either been travelling through the UAE or played online.
One of the most remarkable wins came in the Series 323 draw, held at Dubai International Airport on 4th February 2020. The winning ticket belonged to a boy named Mohamed Salah who was just one year old. It had been purchased online on his behalf by his father, Ramees Rahman, who declared that his son's future was now secure.
Someone who had to wait longer for their moment of fortune was 42-year-old Jagdish Ramnani from Bhopal. A textiles business owner living in Dubai, he had been playing DDF raffles for 20 years before he became India's latest millionaire in February 2021.
Sarath Kunnummal, a technician originally from the Kannur district in Kerala, also won US $1 million in February 2021. He split his winnings with nine other people, making each of them $100,000 richer. He vowed to save his money to help his parents, who have health issues, and also build a big house for them.
There have even been seven players who have doubled their luck and won the DDF Lottery on two occasions.
Dubai Lottery FAQs
Look through the following questions to find out more about the Dubai Lottery and how it works.
How much does it cost to play the Dubai Lottery?
In the Dubai Lottery, the ticket price for the Millennium Millionaire draw is AED (United Arab Emirates Dirham) 1,000 each, which is just over ₹19,000.
How do you claim prizes?
The Dubai Lottery makes wire transfers to Millennium Millionaire winners. To claim a prize, you are required to submit the original ticket which you purchased, proof of the banking details and a copy of a valid passport. Once you have provided all the information, the prize amount will be transferred. This usually happens within three to four weeks.
What is the tax deduction?
If you win the jackpot, the tax rate depends on the laws where you live. DDF doesn't take any responsibility for reducing the payout because the tax varies from country to country.