Mahashivratri Bumper Results
Mahashivratri Bumper Results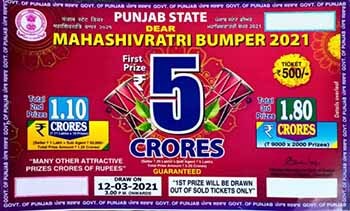 The Punjab Dear Mahashivratri Bumper takes place on 12-03-2021 and the results can be found right here. The top prize is 5 Crores and is guaranteed to be won as the winning raffle number will only be drawn from the ticket numbers that have been sold. Tickets cost just ₹500/- which makes it one of the cheapest bumper lotteries to enter and very exciting considering the top prize must be won.
In total there are six prize levels, starting at a prize of ₹1,000/- which will be won by 5,000 players and growing in size but won by fewer players up to the single first prize winner. In total 10 Lakh tickets are being sold for the draw.
You can find the results for the Punjab Mahashivratri Bumper 2021 in the table below.
Punjab Mahashivratri Bumper Results 2021

| Rank | Ticket Numbers | Mahashivratri Prize Amount (Rs) |
| --- | --- | --- |
| 1st | 409692 | 5 Crore- One guaranteed winner |
| 2nd | 047678, 171043, 318644, 337560, 353162, 406875, 618462, 702864, 795181, 840943 | 11 Lakh |
| 3rd | Ending with 0833, 2070, 3153, 3261, 3289, 3685, 3935, 4197, 4435, 5056, 5238, 5511, 5535, 6585, 6650, 7122, 7315, 8688, 8899, 9625 | 9,000/- |
| 4th | Ending with 0157, 0505, 0962, 1015, 1999, 2205, 4147, 4242, 4403, 4413, 4704, 5522, 5653, 7777, 7861, 7969, 8079, 8522, 9379, 9470 | 7,000/- |
| 5th | Ending with 0845, 1341, 1371, 1550, 1608, 1628, 1885, 3984, 4338, 5410, 6296, 6426, 7024, 7535, 7641, 8249, 8561, 9299, 9312, 9369 | 5,000/- |
| 6th | Ending with 0061, 0120, 0122, 0125, 0197, 0199, 0226, 0258, 0293, 0294, 0297, 0314, 0322, 0338, 0343, 0369, 0396, 0416, 0440, 0493, 0502, 0506, 0529, 0581, 0621, 0628, 0660, 0668, 0684, 0711, 0716, 0723, 0725, 0741, 0760, 0763, 0797, 0809, 0827, 0840, 0860, 0865, 0909, 0925, 0944, 0946, 0954, 0976, 0988, 1006, 1018, 1030, 1041, 1042, 1052, 1063, 1069, 1088, 1093, 1107, 1154, 1156, 1157, 1181, 1186, 1224, 1228, 1239, 1245, 1255, 1269, 1297, 1344, 1350, 1372, 1445, 1467, 1495, 1498, 1507, 1512, 1516, 1528, 1541, 1559, 1594, 1636, 1652, 1699, 1701, 1765, 1766, 1838, 1901, 1904, 1913, 1940, 1941, 1950, 1970, 1980, 1998, 2004, 2021, 2023, 2034, 2038, 2058, 2087, 2097, 2117, 2171, 2225, 2226, 2231, 2233, 2235, 2271, 2288, 2296, 2306, 2313, 2333, 2344, 2398, 2424, 2461, 2464, 2467, 2471, 2526, 2531, 2541, 2556, 2709, 2715, 2716, 2722, 2724, 2762, 2778, 2811, 2816, 2825, 2826, 2845, 2859, 2897, 2925, 2984, 3019, 3062, 3089, 3091, 3140, 3141, 3194, 3199, 3271, 3272, 3305, 3312, 3324, 3442, 3457, 3467, 3468, 3504, 3529, 3531, 3539, 3543, 3554, 3569, 3593, 3609, 3621, 3683, 3699, 3733, 3759, 3822, 3825, 3833, 3836, 3851, 3892, 3894, 3899, 3916, 3937, 3953, 3955, 3960, 3961, 3976, 4005, 4033, 4049, 4052, 4062, 4065, 4068, 4093, 4126, 4129, 4150, 4157, 4162, 4172, 4177, 4212, 4273, 4282, 4302, 4305, 4318, 4341, 4356, 4389, 4402, 4419, 4422, 4460, 4469, 4471, 4478, 4580, 4591, 4592, 4624, 4632, 4680, 4711, 4747, 4750, 4835, 4849, 4856, 4861, 4929, 4952, 4955, 4982, 5015, 5016, 5050, 5068, 5103, 5107, 5120, 5155, 5168, 5180, 5193, 5195, 5219, 5331, 5335, 5400, 5445, 5456, 5482, 5497, 5506, 5519, 5546, 5554, 5578, 5619, 5625, 5638, 5641, 5650, 5665, 5667, 5668, 5675, 5687, 5735, 5741, 5747, 5748, 5753, 5754, 5776, 5824, 5852, 5876, 5892, 5917, 5925, 5941, 5942, 5945, 5958, 5980, 5997, 6024, 6070, 6073, 6169, 6187, 6283, 6314, 6340, 6342, 6359, 6361, 6387, 6392, 6398, 6412, 6464, 6499, 6542, 6549, 6551, 6555, 6564, 6574, 6620, 6628, 6630, 6633, 6648, 6688, 6694, 6714, 6725, 6777, 6837, 6852, 6860, 6862, 6867, 6900, 6903, 6914, 6922, 6923, 6944, 6969, 6982, 6985, 7058, 7107, 7116, 7147, 7150, 7209, 7237, 7246, 7254, 7272, 7279, 7286, 7293, 7296, 7303, 7305, 7308, 7317, 7345, 7347, 7376, 7394, 7402, 7412, 7420, 7438, 7447, 7472, 7492, 7502, 7512, 7523, 7534, 7536, 7546, 7548, 7562, 7569, 7577, 7642, 7682, 7725, 7727, 7739, 7764, 7794, 7834, 7846, 7852, 7862, 7951, 7961, 7972, 7987, 8029, 8035, 8045, 8064, 8125, 8131, 8139, 8163, 8186, 8229, 8235, 8269, 8275, 8282, 8309, 8337, 8343, 8345, 8348, 8423, 8428, 8450, 8455, 8478, 8490, 8498, 8500, 8506, 8509, 8543, 8598, 8616, 8622, 8632, 8655, 8665, 8671, 8692, 8713, 8733, 8752, 8800, 8828, 8860, 8885, 8945, 8965, 8978, 9043, 9047, 9057, 9063, 9083, 9116, 9119, 9142, 9147, 9169, 9176, 9203, 9207, 9225, 9227, 9257, 9258, 9267, 9285, 9302, 9313, 9353, 9354, 9391, 9417, 9434, 9456, 9463, 9464, 9466, 9473, 9504, 9517, 9612, 9638, 9651, 9654, 9664, 9665, 9670, 9674, 9688, 9690, 9700, 9720, 9773, 9778, 9889, 9908, 9921, 9926, 9977 | 1,000/- |