Mahashivratri Bumper Results
Mahashivratri Bumper Lottery Results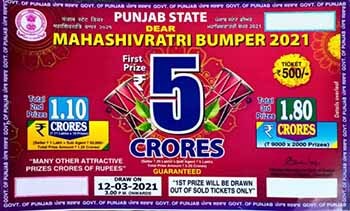 The Punjab Dear Mahashivratri Bumper lottery took place on 12.3.2021 and the results can be found right here. The top prize was 5 Crores and was guaranteed to be won, as the winning raffle numbers are only drawn from the ticket numbers that have been sold. Tickets cost just ₹500/-, which makes it one of the cheapest bumper lotteries to play and very exciting considering the top prize must be won.
In total there are six prize levels in the Maha Shivratri lottery, starting at a prize of ₹1,000/- which was won by 5,000 players. Increasing up the ranks, prizes grow in size but are won by fewer players, all the way up to the single first prize winner. In total 10 Lakh tickets were sold for the draw.

Mega Millions
Friday 7th October 2022
$410 Million
Did you know you can play Mega Millions online from USA? Just click the button below!
Time left:
Play Now
Punjab Mahashivratri Bumper Results 12th March 2021

| Rank | Ticket Numbers | Prize Amount |
| --- | --- | --- |
| 1st Prize | 409692 | ₹5 Crore |
| 2nd Prize | 047678, 171043, 318644, 337560, 353162, 406875, 618462, 702864, 795181, 840943 | ₹11 Lakh |
| 3rd Prize | Ending With: 0833, 2070, 3153, 3261, 3289, 3685, 3935, 4197, 4435, 5056, 5238, 5511, 5535, 6585, 6650, 7122, 7315, 8688, 8899, 9625 | ₹9,000/- |
| 4th Prize | Ending With: 0157, 0505, 0962, 1015, 1999, 2205, 4147, 4242, 4403, 4413, 4704, 5522, 5653, 7777, 7861, 7969, 8079, 8522, 9379, 9470 | ₹7,000/- |
| 5th Prize | Ending With: 0845, 1341, 1371, 1550, 1608, 1628, 1885, 3984, 4338, 5410, 6296, 6426, 7024, 7535, 7641, 8249, 8561, 9299, 9312, 9369 | ₹5,000/- |
| 6th Prize | Ending With: 0061, 0120, 0122, 0125, 0197, 0199, 0226, 0258, 0293, 0294, 0297, 0314, 0322, 0338, 0343, 0369, 0396, 0416, 0440, 0493, 0502, 0506, 0529, 0581, 0621, 0628, 0660, 0668, 0684, 0711, 0716, 0723, 0725, 0741, 0760, 0763, 0797, 0809, 0827, 0840, 0860, 0865, 0909, 0925, 0944, 0946, 0954, 0976, 0988, 1006, 1018, 1030, 1041, 1042, 1052, 1063, 1069, 1088, 1093, 1107, 1154, 1156, 1157, 1181, 1186, 1224, 1228, 1239, 1245, 1255, 1269, 1297, 1344, 1350, 1372, 1445, 1467, 1495, 1498, 1507, 1512, 1516, 1528, 1541, 1559, 1594, 1636, 1652, 1699, 1701, 1765, 1766, 1838, 1901, 1904, 1913, 1940, 1941, 1950, 1970, 1980, 1998, 2004, 2021, 2023, 2034, 2038, 2058, 2087, 2097, 2117, 2171, 2225, 2226, 2231, 2233, 2235, 2271, 2288, 2296, 2306, 2313, 2333, 2344, 2398, 2424, 2461, 2464, 2467, 2471, 2526, 2531, 2541, 2556, 2709, 2715, 2716, 2722, 2724, 2762, 2778, 2811, 2816, 2825, 2826, 2845, 2859, 2897, 2925, 2984, 3019, 3062, 3089, 3091, 3140, 3141, 3194, 3199, 3271, 3272, 3305, 3312, 3324, 3442, 3457, 3467, 3468, 3504, 3529, 3531, 3539, 3543, 3554, 3569, 3593, 3609, 3621, 3683, 3699, 3733, 3759, 3822, 3825, 3833, 3836, 3851, 3892, 3894, 3899, 3916, 3937, 3953, 3955, 3960, 3961, 3976, 4005, 4033, 4049, 4052, 4062, 4065, 4068, 4093, 4126, 4129, 4150, 4157, 4162, 4172, 4177, 4212, 4273, 4282, 4302, 4305, 4318, 4341, 4356, 4389, 4402, 4419, 4422, 4460, 4469, 4471, 4478, 4580, 4591, 4592, 4624, 4632, 4680, 4711, 4747, 4750, 4835, 4849, 4856, 4861, 4929, 4952, 4955, 4982, 5015, 5016, 5050, 5068, 5103, 5107, 5120, 5155, 5168, 5180, 5193, 5195, 5219, 5331, 5335, 5400, 5445, 5456, 5482, 5497, 5506, 5519, 5546, 5554, 5578, 5619, 5625, 5638, 5641, 5650, 5665, 5667, 5668, 5675, 5687, 5735, 5741, 5747, 5748, 5753, 5754, 5776, 5824, 5852, 5876, 5892, 5917, 5925, 5941, 5942, 5945, 5958, 5980, 5997, 6024, 6070, 6073, 6169, 6187, 6283, 6314, 6340, 6342, 6359, 6361, 6387, 6392, 6398, 6412, 6464, 6499, 6542, 6549, 6551, 6555, 6564, 6574, 6620, 6628, 6630, 6633, 6648, 6688, 6694, 6714, 6725, 6777, 6837, 6852, 6860, 6862, 6867, 6900, 6903, 6914, 6922, 6923, 6944, 6969, 6982, 6985, 7058, 7107, 7116, 7147, 7150, 7209, 7237, 7246, 7254, 7272, 7279, 7286, 7293, 7296, 7303, 7305, 7308, 7317, 7345, 7347, 7376, 7394, 7402, 7412, 7420, 7438, 7447, 7472, 7492, 7502, 7512, 7523, 7534, 7536, 7546, 7548, 7562, 7569, 7577, 7642, 7682, 7725, 7727, 7739, 7764, 7794, 7834, 7846, 7852, 7862, 7951, 7961, 7972, 7987, 8029, 8035, 8045, 8064, 8125, 8131, 8139, 8163, 8186, 8229, 8235, 8269, 8275, 8282, 8309, 8337, 8343, 8345, 8348, 8423, 8428, 8450, 8455, 8478, 8490, 8498, 8500, 8506, 8509, 8543, 8598, 8616, 8622, 8632, 8655, 8665, 8671, 8692, 8713, 8733, 8752, 8800, 8828, 8860, 8885, 8945, 8965, 8978, 9043, 9047, 9057, 9063, 9083, 9116, 9119, 9142, 9147, 9169, 9176, 9203, 9207, 9225, 9227, 9257, 9258, 9267, 9285, 9302, 9313, 9353, 9354, 9391, 9417, 9434, 9456, 9463, 9464, 9466, 9473, 9504, 9517, 9612, 9638, 9651, 9654, 9664, 9665, 9670, 9674, 9688, 9690, 9700, 9720, 9773, 9778, 9889, 9908, 9921, 9926, 9977 | ₹1,000/- |