Saturday Super Lotto
Saturday Super Lotto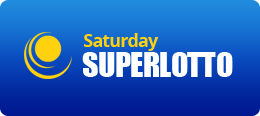 The Saturday Super Lotto was a lottery run by the Pan India Network Ltd (Playwin). The game ended a few months before Playwin closed for good in 2019. When it was active, Saturday Super Lotto was one of the most popular Indian lottery games, offering a wealth of prizes in every draw.
Jackpots started at Rs. 2 crore and rolled over to the following draw if there were no top prize winners. Saturday Super Lotto draws were held every Saturday night between 10:00pm and 10:30pm and were shown on television channel Zee Zing.

Powerball
Saturday 2nd December 2023
$400 Million
Did you know you can play Powerball online from USA? Just click the button below!
Time left:
Play Now
How Saturday Super Lotto Was Played
Please note that this information is for reference purposes only – Saturday Super Lotto draws no longer take place.
In Saturday Super Lotto, players selected six numbers from 1 to 49. The jackpot, which started at Rs. 2 crore, was won by any player who successfully matched all six numbers drawn. If more than one ticket holder matched all six numbers, the top prize was shared equally between the winners. However, if there were no jackpot winners then the top prize rolled over to the following draw.
There were a total of four prize tiers and players could win a prize for matching as few as three numbers. The winning combinations, odds and prizes were as follows:
Match
Odds
Prize
6
1 in 13,983,816
2 Crores
5
1 in 54,201
50,000
4
1 in 1,032
500
3
1 in 57
50
Overall odds of winning a prize: 1 in 54
Saturday Super Lotto tickets were available to buy from the official Playwin site using a Playwin card. The cards, which were available in set values of Rs. 200, 500, 1000 and 5000, could be purchased from official lottery retailers, by SMS or by email, and were the only accepted online payment method. Tickets could also be purchased in person at an official lottery retailer. Prizes were valid for 90 days from the date of a draw.
Alternatives to Saturday Super Lotto
The final Saturday Super Lottery took place on 29th June 2019. Pan India Network Ltd announced at the time that the draws would be suspended and relaunched later in the year, but the game wasn't played again before Playwin's closure in October 2019. Other Playwin games, such as Tuesday Thunderball, came to an end at around the same time as Saturday Super Lotto.
Saturday Super Lotto has ended, but there are other Saturday lotteries available to play online, many of which offer bigger prizes and better odds than Playwin's now-defunct game. Take a look at the list of Saturday lotteries available to play online in India and then go to the Lottery Tickets page to get your entries.
Powerball
US Powerball is famous for offering the biggest lottery prizes in the world. The jackpot starts at US$20 million (Rs. 145 crore) and has even climbed higher than US$1.5 billion (Rs. 10,877 crore!) before. To play Powerball, you pick five numbers from 1 to 69 and one Powerball number from 1 to 26. Match all your numbers with the winning line to win that incredible jackpot.
UK Lotto
The UK Lotto jackpot is more modest than Powerball's but it still starts at £3.8 million (Rs. 37 crore) and you have a much better chance of winning it. You can win a prize for matching as few as two numbers, and if you match five plus the Bonus Ball, you win the second prize of £1 million (Rs. 9.9 crore).
Australia Lotto
Australia Lotto, also known as Saturday Lotto, is a weekly draw that offers the chance to win a jackpot that starts at AU$4 million (Rs. 22 crore). To win that, you must match 6 from a possible 45 numbers at odds of 1 in 8.1 million: those are the best jackpot odds of any of the games featured on this page.
New York Lotto
Most states in the US offer their own games in addition to the famous Powerball and Mega Millions lotteries. New York Lotto is one of the longest-running and most well-known state lotteries of them all. The jackpot starts at US$2 million (Rs. 14 crore) and increases every time it's not won, so is often worth a lot more than that. You win the top prize by matching 6 out of 59 numbers.