Thunderball
India Thunderball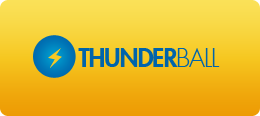 Thunderball was a Playwin lottery available across India, and it offered a wealth of attractive cash prizes in each draw. The game is no longer played, as Playwin has now ceased operating; the last Thunderball draw took place in July 2019.
Thunderball offered a jackpot worth a minimum of Rs. 1 crore, which rolled over to the following draw if there were no jackpot winners. Prizes ranged from Rs. 20 for matching one main number and the Thunderball, up to Rs. 1 Crore for matching all five main balls and the Thunderball.

Lotto India
Tuesday 3rd October 2023
₹40 Million
₹4 Crore!
Take part in the Lotto India lottery online today!
Time left:
How Thunderball Was Played
Please note that this information is for reference purposes only – Playwin Thunderball draws no longer take place.
To play Thunderball, players selected five numbers from a possible 42, plus a Thunderball number between 1 and 15. The jackpot could be won by matching all six numbers, and there were seven other prizes available. Players were guaranteed to win if they matched the Thunderball with at least one of the main numbers.
Tickets were available at retailers or online through the Playwin website. A Playwin card was required to purchase tickets; these cards were pre-loaded in denominations of Rs. 200, 500, 1000 and 5000, and were the only form of payment accepted on the Playwin website.
The following table displays how many numbers players needed to match to win a prize on Thunderball, along with the odds of winning and the prizes on offer. All prizes had to be claimed within 90 days of the winning draw.
Match
Odds
Prize (Rs)
5 + Thunderball
1 in 12,760,020
1 Crore
5
1 in 911,430
40,000
4 + Thunderball
1 in 68,973
25,000
4
1 in 4,927
2,500
3 + Thunderball
1 in 1,916
1000
3
1 in 137
50
2 + Thunderball
1 in 164
50
1 + Thunderball
1 in 39
20
Overall odds of winning a prize: 1 in 25
Draws took place weekly on a Tuesday night between 10.00pm and 10.30pm and were aired live on the television channel Zee Zing.
Alternatives to Thunderball
Thunderball came to an end in 2019, with the last draw taking place on 9th July. Saturday Lotto also came to an end, and although Playwin continued to offer other games, such as Jaldi 5, the company ceased operations in October 2019, bringing all of its lotteries to a halt.
There are a number of state lotteries that offer alternative Tuesday lotteries, but most of them cannot be played online. There are, however a number of international lotteries that also take place every Tuesday, and these can be entered from India. Head to the Lottery Comparison page if you want to see how these and other games match up against each other.
Lotto India
Lotto India is an online-only game made especially for players in India. It offers a jackpot worth Rs. 4 crore in every draw and regular Bumper Draws that boost the jackpot to a huge Rs. 40 crore. Tickets cost Rs. 40 and you can win your money back by matching the Joker number. Lotto India draws take place at 5.00pm every Tuesday and Friday.
EuroMillions
Europe's biggest and best lottery is available to play online from India. EuroMillions offers huge jackpots that start at €17 million (Rs. 145 crore) and which can reach a staggering €220 million (Rs. 1,883 crore). To play, you just choose five numbers from 1 to 50 and two Lucky Stars from 1 to 12. Match all of them with the winning line to land that incredible jackpot.
Mega Millions
Mega Millions is one of the biggest lotteries in the United States and offers an impressive US$20 million (Rs. 145 crore) starting jackpot. You can win that by matching five numbers plus a Mega Ball number, and there are eight other prizes to play for – you can even win something just for matching the Mega Ball. Draws take place every Tuesday and Friday.