Thursday Super Lotto
Thursday Super Lotto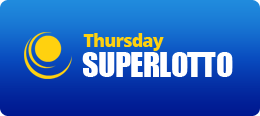 Thursday Super Lotto was a popular Indian Lottery game that was sanctioned by the government of Sikkim and run by the Pan India Network Ltd (Playwin). The game was brought to an end in March 2019.

Powerball
Saturday 30th September 2023
$925 Million
Did you know you can play Powerball online from USA? Just click the button below!
Time left:
Play Now
The Thursday Superlotto jackpot started at Rs. 2 crore and rolled over every time it was not won, leading to big payouts. The game even set a record for the biggest jackpot ever won on a Playwin lottery, when a resident of Kolkata won Rs. 17 crore in 2006.
How Thursday Super Lotto Was Played
To play Thursday Super Lotto, players needed to select six numbers from a range of 1 to 49. The jackpot was won by anyone who matched all six numbers drawn, but prizes could also be won for matching as few as three numbers. In the event that more than one player won the jackpot, the top prize would be shared equally between the top prize winners. In draws where there was no jackpot winner, the amount would roll over to the next draw.
The prize tiers, winning combinations and odds of winning a prize were as follows:
Thursday Superlotto Prizes
Match
Odds
Prize (Rs)
6
1 in 13,983,816
2 Crores
5
1 in 54,201
50,000
4
1 in 1,032
500
3
1 in 57
50
Overall odds of winning any prize: 1 in 54
Draws were held every Thursday night between 10:00pm and 10:30pm and were shown on television channel Zee Zing.
Alternative Thursday Lotteries
Thursday Super Lotto was discontinued as part of a wider shakeup of Playwin's games – the last draw took place on 14th March 2019. Extra draw days were added for Playwin's Jaldi 5 and Jaldi Double at the same time. In October 2019, six months after Thursday Super Lotto ended, Playwin closed its doors for good and all of its games came to an end.
The following lotteries provide some good alternatives to Thursday Super Lotto and are available to play online from India. The Lottery Comparison page goes into more detail about these games and shows the advantages of each one when compared against other lotteries.
Powerball
US Powerball is one of the biggest and best lotteries in the world and offers many crores in prize money in every draw. Powerball draws take place in the US at 10:59pm every Wednesday and Saturday, which is around 8:00am every Thursday and Sunday in India. If you've been looking for a new game to play since Thursday Super Lotto ended, Powerball is a great alternative.
Jaldi 3
Jaldi 3 draws take place twice a day and you can win up to Rs. 40,000 in every one just by matching three winning numbers. There are many different ways to win, and you get to choose how to play: you could attempt to win the top prize by matching the winning numbers in the exact order they're drawn, or you could improve your odds by matching the numbers in any order. The choice is yours.