Shri Puja Bumper Results
Shri Puja Bumper Lottery Results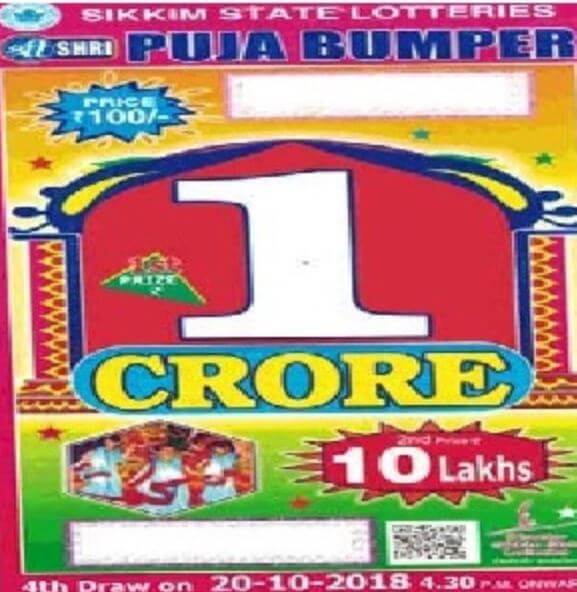 The Shri Puja Bumper Lottery takes place every month of October in Sikkim State, India. Tickets have a face value of Rs 100 and are usually sold in five series
These are the results from recent Shri Puja Bumper draws. Only the results for the Category Prize I (1st prize) are listed below. Consolation prizes usually go to players with the same number ticket as the 1st prize winning number, but in one of the other four series.
Please click the year of the results you require in order to see the full breakdown for each draw.
Remember, winners have only 30 days in which to claim their prize and to provide proof of ownership of the ticket and proof of identity, so check your results as soon as possible.
| Draw Year | Draw Date | Lottery Number | 1st Prize | 1st Prize Amount (Rs) |
| --- | --- | --- | --- | --- |
| Shri Puja Bumper 2018 | 20.10.2018 | 4 | A 85748 | 1 Crore |
Full Shri Puja Bumper Result 2018
This is the full prize breakdown for all seven prize tiers in the 2018 drawing.
| Rank | Ticket Numbers | Shri Puja Prize Amount (Rs) |
| --- | --- | --- |
| 1st | A 85748 | 1 core |
| 2nd | E 47194 | 10 Lakhs |
| 3rd | 39316, 49853, 58621, 59517, 68922, 71135, 73225, 77122, 94510, 98708 | 9,000/- |
| 4th | 30990, 55237, 58529, 68281, 69307, 70871, 73387, 75594, 78197, 92230, | 7,000/- |
| 5th | 0867, 1303, 3016, 3564, 4139, 5443, 6655, 7735, 8608, 8862 | 5,000/- |
| 6th | 0666, 1480, 2139, 2652, 3693, 3837, 4104, 4255, 4968, 5040, 5328, 5774, 6296, 6928, 7247, 7288, 8615, 8685, 9163, 9550 | 1,000/- |
| 7th | 0003 1622 2546 3633 4299 5291 6206 7088 7921 9166 0146 1681 2914 3703 4487 5354 6338 7107 7986 9311 0274 1839 3026 3720 4600 5421 6404 7292 8191 9373 0289 1857 3171 3731 4635 5539 6590 7304 8399 9378 0749 1901 3214 3749 4646 5706 6609 7322 8544 9503 1106 2207 3285 3854 4668 5710 6730 7424 8617 9544 1510 2304 3316 3985 4874 5759 6868 7437 8626 9595 1536 2434 3334 4009 5130 5960 6997 7656 8782 9607 1590 2505 3551 4016 5145 6025 7063 7701 8901 9793 1604 2506 3576 4023 5208 6147 7083 7892 9139 9978 | 300/- |