Sankranti Bumper Lottery Results
Sankranti Bumper Lottery Results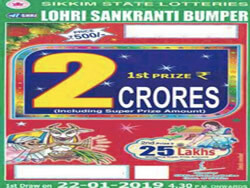 The Sankranti Bumper Lottery takes place in January in Sikkim State, India. Tickets cost Rs 500 each and are usually sold in just one series numbering 00 000 to 99 999.
The first prize is an impressive 2 Crores with a second prize of 25 Lakhs also being awarded. There's even 100 prizes in the third tier of Rs 9,000. The gross value of tickets printed is 5 Crores.
These are the results from recent Sankranti Bumper draws.
Want to play the Lottery online? Download a VPN and follow the instructions here.
Remember, winners have only 30 days in which to claim their prize and to provide proof of ownership of the ticket and proof of identity, so check your results as soon as possible.
This is the full prize breakdown for the top seven prize tiers in the 2019 drawing, dated 22/01/2019.
Sankranti Bumper results 2019

| Rank | Ticket Numbers | Prize Amount (Rs) |
| --- | --- | --- |
| 1st | 38181 | 2.00 core |
| 2nd | 63447 | 25 Lakhs |
| 3rd | Ending 3276 5151 5929 6408 6794 7502 7848 7886 8053 8894 | 9,000/- |
| 4th | Ending 1513 2942 3895 5283 5459 6944 7531 7600 9017 9567 | 6,000/- |
| 5th | Ending with 0528 1454 1887 3266 4507 5464 6439 6517 6748 7671 | 4,000/- |
| 6th | Ending with 0556 1277 1752 2943 5670 5836 7054 7149 7360 7840 | 2,000/- |
| 7th | Ending with 0284 1192 2484 3863 4465 5280 6463 7553 8264 9417 0352 1271 2511 3866 4597 5288 6567 7610 8416 9508 0355 1333 2568 3900 4655 5387 6682 7618 8657 9575 0506 1444 2628 3936 4706 5595 6693 7648 8703 9580 0515 1599 2668 3960 4715 5626 6778 7728 8708 9745 0606 1622 3017 4137 4808 5747 6816 7757 8990 9838 0826 1945 3164 4140 4867 5941 6948 7913 9183 9869 1023 2195 3226 4179 4954 5996 7222 7976 9188 9917 1073 2292 3346 4349 5037 6028 7237 8057 9279 9918 1186 2402 3448 4429 5278 6201 7300 8112 9395 9979 | 1,000/- |