Diwali Bumper Results
Diwali Bumper Results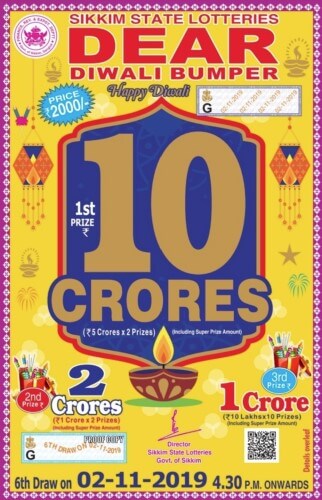 The Diwali Bumper lottery previously took place every November in Sikkim State, India. The draw took place to celebrate Diwali and was one of the most popular lotteries of the year. Tickets cost Rs 2,000/- and were sold in five series.
In 2020 the Dear Diwali Bumper lottery did not take place, so no results were published. You can, however, view previous Diwali Bumper results using the dropdowns below, with the 2019 draw shown first.
Tickets were valid for 30 days from the date of a draw, therefore any tickets purchased for the draws listed below have now expired and any prizes won cannot be claimed. Did you know? Playing lotteries online means that you automatically receive winnings in your online account after a draw has taken place, meaning you never have to worry about missing the claim deadlines.

Powerball
Saturday 3rd June 2023
$262 Million
Did you know you can play Powerball online from USA? Just click the button below!
Time left:
Play Now
Diwali Bumper November 2019
This is the full prize breakdown for all prize tiers in the November 2019 drawing.
Sikkim Dear Diwali Puja Bumper Results November 2019

| Rank | Ticket Numbers | Prize Amount |
| --- | --- | --- |
| 1st Prize | G 52771, L 14396 | ₹5 Crore |
| Consolation Prize | Ending With: 14396, 52771 | ₹10 Lakh |
| 2nd Prize | G 00784, L 07010 | ₹1 Crore |
| 3rd Prize | G 00375, G 04652, G 45203, G 57741, G 62180, L 24928, L 36818, L 39139, L 42584, L 64183 | ₹10 Lakh |
| 4th Prize | Ending With: 0046, 0058, 0106, 0166, 0230, 0384, 0495, 0504, 0617, 0624, 0825, 0912, 0934, 1086, 1193, 1347, 1428, 1524, 1700, 1701, 1708, 1818, 2004, 2221, 2492, 2499, 2590, 2639, 2646, 2764, 2785, 2786, 2832, 2928, 2945, 2956, 2976, 3021, 3151, 3308, 3364, 3444, 3534, 3689, 3795, 3846, 3874, 3983, 4154, 4156, 4209, 4227, 4374, 4424, 4533, 4656, 4658, 4917, 4963, 5179, 5227, 5505, 5712, 5790, 5802, 5806, 5852, 5993, 6077, 6322, 6325, 6379, 6480, 6502, 6578, 6662, 6663, 6680, 6688, 7022, 7053, 7182, 7248, 7503, 7713, 8145, 8392, 8411, 8438, 8458, 8704, 9133, 9332, 9407, 9411, 9454, 9509, 9630, 9678, 9968 | ₹9,000/- |
| 5th Prize | Ending With: 0100, 0111, 0249, 0277, 0327, 0524, 0529, 0729, 0796, 0843, 0849, 0889, 0994, 0995, 1105, 1211, 1295, 1438, 1516, 1520, 1712, 1815, 2070, 2136, 2137, 2153, 2174, 2285, 2293, 2657, 3086, 3191, 3369, 3370, 3567, 3599, 3681, 3724, 3731, 3807, 3872, 4042, 4253, 4665, 4825, 4921, 4942, 4973, 4989, 5033, 5053, 5113, 5125, 5266, 5332, 5506, 5518, 5536, 5596, 5640, 5764, 5822, 6064, 6067, 6145, 6225, 6293, 6374, 6380, 6414, 6466, 6849, 6907, 6932, 6973, 7044, 7179, 7196, 7318, 7541, 7638, 7691, 7788, 7901, 8051, 8078, 8331, 8927, 9029, 9070, 9223, 9227, 9367, 9602, 9670, 9733, 9760, 9909, 9932, 9988 | ₹7,000/- |
| 6th Prize | Ending With: 0141, 0158, 0161, 0226, 0239, 0341, 0482, 0508, 0547, 0616, 0673, 0691, 0741, 0745, 0860, 1107, 1452, 1521, 1584, 1654, 1720, 1762, 1913, 2422, 2593, 2601, 2820, 2860, 2929, 3213, 3261, 3344, 3453, 3531, 3616, 3747, 3857, 3903, 4068, 4095, 4367, 4677, 4740, 4744, 4850, 5032, 5107, 5177, 5220, 5242, 5400, 5572, 5619, 5797, 5829, 6009, 6058, 6109, 6140, 6265, 6275, 6383, 6460, 6540, 6638, 6762, 6782, 6815, 6894, 6989, 6990, 7154, 7424, 7437, 7441, 7517, 7520, 7578, 7668, 7679, 7686, 7716, 7740, 7793, 7936, 7938, 8165, 8375, 8391, 8435, 8439, 8630, 8994, 9096, 9154, 9230, 9646, 9673, 9686, 9738 | ₹5,000/- |
| 7th Prize | Ending With: 0016, 0079, 0084, 0315, 0346, 0429, 0452, 0467, 0514, 0655, 0668, 0774, 0837, 1063, 1096, 1159, 1340, 1370, 1421, 1542, 1562, 1639, 1796, 1905, 1985, 2014, 2083, 2271, 2511, 2557, 2578, 2702, 2875, 2922, 3018, 3046, 3064, 3171, 3273, 3285, 3290, 3361, 3363, 3435, 3464, 3554, 3606, 3634, 3823, 3869, 4025, 4526, 4598, 4624, 4713, 4810, 4822, 5057, 5294, 5439, 5566, 5626, 5630, 5793, 5872, 5892, 5903, 5990, 6042, 6279, 6547, 6860, 6869, 6903, 6922, 7191, 7201, 7235, 7268, 7273, 7365, 7389, 7614, 7726, 7750, 7979, 8050, 8107, 8133, 8196, 8526, 8737, 9025, 9073, 9228, 9306, 9327, 9347, 9495, 9615 | ₹4,000/- |
| 8th Prize | Ending With: 0088, 0151, 0284, 0310, 0586, 0671, 0707, 0721, 0776, 0821, 1099, 1169, 1284, 1314, 1329, 1333, 1435, 1568, 1572, 1582, 1596, 1597, 1791, 1840, 2126, 2127, 2333, 2466, 2530, 2558, 2971, 3120, 3125, 3254, 3420, 3536, 3583, 3715, 3748, 3828, 3837, 3859, 3904, 3929, 4015, 4056, 4110, 4281, 4301, 4451, 4507, 4970, 5124, 5291, 5765, 5819, 6026, 6106, 6125, 6162, 6193, 6268, 6393, 6472, 6606, 6693, 6936, 6952, 7122, 7158, 7246, 7269, 7337, 7338, 7392, 7463, 7532, 7544, 7653, 7677, 7935, 8007, 8097, 8136, 8248, 8275, 8388, 8541, 8644, 8667, 8699, 8739, 8907, 9046, 9188, 9240, 9433, 9491, 9804, 9956 | ₹3,000/- |
Previous Diwali Bumper Results
November 2018
Sikkim Dear Diwali Puja Bumper Results November 2018

| Rank | Ticket Numbers | Prize Amount |
| --- | --- | --- |
| 1st Prize | 29474 | ₹5 Crore |
| 2nd Prize | 94670 | ₹10 Lakh |
| 3rd Prize | 08057, 11132, 18303, 21517, 34023, 40850, 41306, 47227, 73834, 89476 | ₹9,000/- |
| 4th Prize | Ending With: 0003, 0016, 0095, 0171, 0230, 0274, 0418, 0604, 0667, 0717, 0888, 0909, 1213, 1241, 1293, 1533, 1557, 1564, 1583, 1617, 1689, 1912, 1925, 2005, 2028, 2478, 2482, 2618, 2673, 2771, 2817, 2841, 2869, 2921, 3118, 3195, 3287, 3344, 3616, 3791, 3812, 3840, 3889, 4031, 4159, 4592, 4987, 5067, 5068, 5228, 5266, 5325, 5421, 5477, 5508, 5591, 5592, 5601, 5663, 5992, 6166, 6167, 6197, 6307, 6531, 6536, 6567, 6586, 6610, 6817, 6920, 7085, 7214, 7335, 7395, 7461, 7580, 7617, 7686, 7690, 7743, 7771, 7913, 7924, 8009, 8241, 8403, 8522, 8566, 8785, 8983, 9035, 9126, 9355, 9369, 9401, 9410, 9620, 9704, 9741 | ₹7,000/- |
| 5th Prize | Ending With: 0044, 0241, 0386, 0640, 0733, 0765, 0904, 0971, 1113, 1382, 1469, 1479, 1548, 1676, 1805, 1838, 1858, 1990, 1995, 2120, 2130, 2310, 2315, 2348, 2382, 2491, 2786, 3027, 3099, 3129, 3139, 3377, 3427, 3539, 3562, 3726, 3761, 4310, 4395, 4431, 4650, 4729, 4781, 4797, 4802, 4841, 4939, 4979, 4983, 5127, 5270, 5308, 5327, 5425, 5474, 5597, 5637, 5648, 5655, 5691, 5755, 5883, 6002, 6301, 6385, 6448, 6539, 6723, 6783, 6876, 6903, 7044, 7049, 7131, 7161, 7450, 7466, 7769, 7842, 7876, 8315, 8354, 8481, 8494, 8500, 8758, 8913, 8940, 8984, 9018, 9025, 9108, 9238, 9356, 9376, 9561, 9686, 9699, 9719, 9821 | ₹5,000/- |
| 6th Prize | Ending With: 0206, 0277, 0303, 0308, 0318, 0445, 0465, 0576, 0660, 0832, 1064, 1076, 1348, 1355, 1383, 1555, 1615, 1627, 1756, 2073, 2129, 2202, 2218, 2306, 2595, 2602, 2712, 2733, 2872, 2901, 3132, 3255, 3351, 3355, 3382, 3420, 3498, 3518, 3529, 3531, 3550, 3635, 3778, 3807, 3855, 3945, 4070, 4216, 4234, 4345, 4360, 4526, 4570, 4595, 4601, 4652, 4891, 4970, 5022, 5037, 5076, 5079, 5095, 5183, 5215, 5265, 5373, 5497, 5544, 5580, 5785, 5928, 6207, 6214, 6377, 6521, 6547, 6706, 6857, 6982, 7057, 7230, 7412, 7437, 7539, 7694, 7709, 7881, 7962, 8048, 8108, 8134, 8353, 8379, 8685, 8998, 9167, 9199, 9532, 9612 | ₹4,000/- |
| 7th Prize | Ending With: 0032, 0054, 0056, 0210, 0447, 0482, 0595, 0713, 0761, 0917, 0966, 0980, 1002, 1138, 1239, 1280, 1338, 1344, 1604, 1626, 1712, 1760, 1807, 1953, 1954, 2004, 2153, 2189, 2217, 2287, 2363, 2381, 2398, 2572, 2625, 2632, 2729, 3233, 3267, 3299, 3402, 3720, 3734, 3746, 3799, 3815, 3826, 4005, 4238, 4350, 4512, 4534, 4560, 4879, 4899, 4922, 5008, 5226, 5339, 5539, 5704, 5751, 5852, 6085, 6664, 6674, 6682, 6698, 6746, 6769, 6785, 6892, 7286, 7491, 7510, 7575, 7692, 7773, 7866, 8100, 8149, 8248, 8251, 8300, 8360, 8605, 8776, 8792, 8814, 8860, 8976, 9206, 9305, 9363, 9392, 9454, 9481, 9520, 9687, 9839 | ₹3,000/- |
| 8th Prize | Ending With: 0000, 0010, 0148, 0267, 0302, 0329, 0346, 0479, 0495, 0574, 0625, 0680, 0819, 0862, 0957, 1067, 1087, 1153, 1310, 1416, 1475, 1508, 1523, 1763, 1845, 2003, 2064, 2176, 2206, 2392, 2469, 2576, 2737, 2752, 2777, 2878, 3167, 3276, 3282, 3622, 3698, 3882, 4004, 4087, 4123, 4131, 4472, 4531, 4997, 5030, 5061, 5141, 5269, 5318, 5551, 5569, 5587, 5600, 5768, 5942, 6070, 6273, 6274, 6384, 6668, 6751, 6797, 6930, 6942, 6957, 7116, 7136, 7663, 7720, 7796, 7964, 8291, 8438, 8470, 8545, 8639, 8641, 8652, 8706, 8725, 8754, 8765, 8803, 8868, 8873, 8972, 9119, 9321, 9343, 9535, 9629, 9651, 9966, 9984, 9995 | TBC |
October 2017
Sikkim Dear Diwali Puja Bumper Results October 2017

| Rank | Ticket Numbers | Prize Amount |
| --- | --- | --- |
| 1st Prize | A 59348, H 59180 | ₹1.02 Crore |
| 2nd Prize | H 54964 | ₹11 Lakh |
| 3rd Prize | Ending With: 40029, 47087, 48368, 50713, 55892, 73889, 79501, 81888, 85104, 85932 | ₹9,000/- |
| 4th Prize | Ending With: 55668, 59463, 62922, 64498, 68515, 75989, 76354, 87541, 92619, 98311 | ₹5,000/- |
| 5th Prize | Ending With: 114096, 158955, 175347, 1765, 179137, 295184, 3398, 3651, 370496, 3990, 414816, 440220, 524392, 549871, 563395, 5685, 6094, 649983, 678432, 710133, 7297, 798721, 825017, 8413, 855717, 911460, 9120, 930599, 9897, 992498 | ₹2,000/- |
| 6th Prize | Ending With: 0298, 0385, 0504, 1315, 1395, 2293, 3615, 4381, 4714, 5841, 6321, 6408, 6548, 7339, 7560, 7835, 7846, 7890, 8532, 8759 | ₹1,000/- |
| 7th Prize | Ending With: 0024, 0104, 0113, 0145, 0236, 0243, 0435, 0551, 0561, 0608, 0615, 0650, 0851, 0866, 1108, 1141, 1270, 1328, 1464, 1535, 1722, 1729, 1743, 1746, 1825, 1896, 1908, 1956, 1994, 2137, 2173, 2193, 2204, 2241, 2305, 2479, 2550, 2572, 2648, 2661, 2765, 2886, 2970, 2994, 2997, 3060, 3125, 3166, 3575, 3702, 3729, 3742, 3808, 3878, 4018, 4025, 4140, 4161, 4205, 4588, 4687, 4789, 4873, 4928, 4931, 5145, 5395, 5446, 5599, 5650, 5672, 5821, 5985, 5986, 6123, 6210, 6323, 6345, 6359, 6575, 6586, 6617, 6639, 6758, 6790, 6793, 6892, 6936, 7055, 7288, 7511, 7531, 7547, 7551, 7552, 7709, 7758, 7795, 8060, 8165, 8206, 8235, 8407, 8483, 8495, 8571, 8664, 8740, 8790, 8850, 8945, 9094, 9484, 9492, 9540, 9663, 9710, 9836, 9909, 9953 | ₹500/- |