Dear Puja Bumper Results
Dear Puja Bumper Lottery Results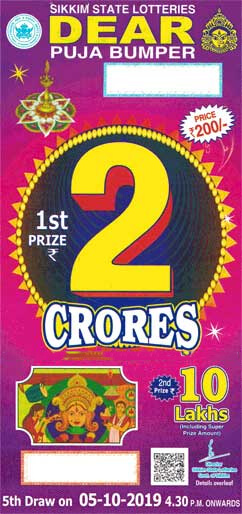 The last Dear Puja Bumper lottery took place on 5.10.2019. The top prize was 2 Crore and the second prize was 10 Lakh. In total there were eight different prize ranks, with a minimum prize of Rs 500/-.
No more Dear Puja Bumper results have been drawn since, as the draw did not take place in 2020.
You can view the results for 2019's Puja Bumper lottery below. Simply select a draw from the dropdown list to view all winning ticket numbers and the allocated prize amounts for each. Please note that any prizes won have now expired, as tickets are valid for a maximum of 30 days after the Sikkim Dear Puja Bumper draws.
The Sikkim Dear Puja Bumper lottery is no longer available, however a wide range of lotteries are available online each week. Learn how to play from India.

Mega Millions
Tuesday 4th April 2023
$385 Million
Did you know you can play Mega Millions online from USA? Just click the button below!
Time left:
Play Now
Dear Puja Bumper October 2019
This is the full prize breakdown for all prize tiers in the October 2019 drawing.
Sikkim Dear Puja Bumper Results October 2019

| Rank | Ticket Numbers | Prize Amount |
| --- | --- | --- |
| 1st Prize | D 45191 | ₹2 Crore |
| 2nd Prize | E 70291 | ₹10 Lakh |
| 3rd Prize | Ending With: 33448, 33635, 46415, 54169, 59445, 82291, 85759, 86960, 95416, 96772 | ₹9,000/- |
| 4th Prize | Ending With: 1320, 2155, 2647, 3193, 7720, 7754, 8258, 8574, 9007, 9940 | ₹5,000/- |
| 5th Prize | Ending With: 0147, 0823, 0967, 1663, 1873, 2025, 2955, 3087, 4375, 5561, 5738, 5898, 6823, 7264, 7368, 7502, 7605, 8103, 8386, 8458 | ₹3,000/- |
| 6th Prize | Ending With: 0122, 0674, 1326, 2152, 2256, 2592, 2632, 3496, 3786, 3939, 4892, 4913, 6923, 7001, 7236, 7472, 7561, 7898, 9142, 9183 | ₹2,000/- |
| 7th Prize | Ending With: 0209, 0465, 0655, 1029, 1698, 3125, 3224, 3588, 4096, 4472, 5728, 5963, 7060, 7279, 7431, 7921, 8217, 8969, 9409, 9777 | ₹1,000/- |
| 8th Prize | Ending With: 0010, 0087, 0172, 0220, 0225, 0233, 0272, 0366, 0379, 0476, 0506, 0510, 0529, 0548, 0613, 0617, 0623, 0675, 0758, 0812, 0928, 0957, 0999, 1043, 1044, 1135, 1443, 1523, 1534, 1539, 1584, 1587, 1606, 1637, 1652, 1658, 1693, 1835, 1870, 2137, 2169, 2178, 2182, 2313, 2366, 2420, 2436, 2462, 2515, 2550, 2653, 2659, 2722, 2744, 2896, 2920, 2965, 2996, 2999, 3030, 3220, 3241, 3285, 3299, 3318, 3343, 3345, 3480, 3617, 3747, 3906, 3924, 3933, 3984, 4045, 4054, 4139, 4216, 4220, 4254, 4357, 4382, 4386, 4424, 4451, 4579, 4658, 4773, 4784, 4863, 4894, 4905, 4981, 4996, 5001, 5004, 5051, 5058, 5065, 5117, 5119, 5140, 5166, 5257, 5277, 5287, 5323, 5335, 5338, 5344, 5556, 5574, 5701, 5747, 5809, 5829, 5929, 5977, 6045, 6054, 6122, 6194, 6198, 6199, 6219, 6318, 6346, 6358, 6382, 6578, 6653, 6682, 6716, 6832, 6903, 7017, 7034, 7091, 7169, 7192, 7237, 7250, 7262, 7317, 7325, 7344, 7387, 7388, 7400, 7447, 7456, 7488, 7503, 7534, 7574, 7586, 7625, 7641, 7733, 7817, 7820, 7823, 8027, 8136, 8221, 8229, 8254, 8282, 8363, 8455, 8634, 8700, 8706, 8722, 8736, 8752, 8834, 8845, 8902, 8952, 8967, 8975, 8986, 9087, 9118, 9233, 9338, 9345, 9361, 9437, 9471, 9480, 9483, 9612, 9629, 9655, 9841, 9935, 9983, 9999 | ₹500/- |