Dear Durga Puja Lottery Results
Dear Durga Puja Bumper Results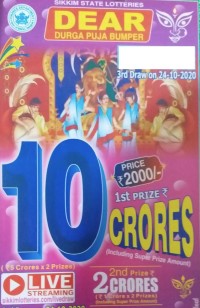 The Sikkim Dear Durga Puja Bumper lottery was drawn on 24.10.2020 at 8pm. Two top prizes of 5 crore were offered (totalling 10 crore), both including the super prize amount. In addition, winners of the second prize received a 1 crore prize, with plenty of other huge prizes on offer for the lower tiers.
In total, 200,000 tickets went on sale for the draw across Sikkim State at a cost of Rs 2000/- and were valid for 30 days after the draw had taken place.
The date for the 2021 Durga Puja Bumper lottery has not yet been announced. Be sure to check back here regularly for updates.
Want to play the Lottery online? Download a VPN and follow the instructions here.

Dear Durga Puja Bumper October 2020
This is the full prize breakdown for all prize tiers in the October 2020 drawing.
Sikkim Dear Durga Puja Bumper Results October 2020

| Rank | Ticket Numbers | Prize Amount |
| --- | --- | --- |
| 1st Prize | 243908, 252509 | ₹5 Crore |
| 2nd Prize | 145325, 191427 | ₹1 Crore |
| 3rd Prize | 100619, 109234, 124742, 133121, 142457, 143126, 145209, 148628, 153989, 159225, 225907, 246031, 251455, 262036, 266395, 280339, 280566, 286471, 294490, 295468 | ₹10 Lakh |
| 4th Prize | Ending With: 0003, 0060, 0160, 0187, 0255, 0678, 1037, 1132, 1389, 1432, 1575, 1593, 1726, 1739, 1773, 1864, 1920, 2009, 2042, 2068, 2081, 2147, 2243, 2295, 2356, 2436, 2713, 2832, 3086, 3172, 3332, 3540, 3568, 3589, 3629, 3723, 3731, 3749, 3901, 4016, 4092, 4180, 4211, 4387, 4612, 4645, 4833, 4835, 5175, 5224, 5331, 5359, 5480, 5599, 5644, 5894, 5943, 6186, 6197, 6346, 6435, 6619, 6685, 6689, 6738, 6767, 6774, 6780, 6868, 6926, 7112, 7139, 7185, 7218, 7688, 7696, 7763, 7883, 7910, 7936, 7998, 8280, 8496, 8528, 8599, 8907, 8940, 8987, 9119, 9179, 9206, 9283, 9388, 9610, 9649, 9798, 9808, 9822, 9862, 9895 | ₹9,000/- |
| 5th Prize | Ending With: 0154, 0231, 0501, 0592, 0651, 0688, 0693, 0765, 0825, 0915, 1065, 1163, 1294, 1345, 1600, 1636, 1665, 1698, 1930, 1954, 2037, 2056, 2195, 2392, 2403, 2466, 2721, 2747, 3003, 3030, 3036, 3072, 3384, 3387, 3426, 3531, 3600, 3614, 3655, 3687, 3721, 4008, 4138, 4221, 4509, 4760, 4911, 5122, 5147, 5155, 5174, 5215, 5218, 5464, 5601, 5830, 5838, 5953, 5956, 5987, 6045, 6337, 6464, 6511, 6686, 6713, 6833, 6905, 6976, 6983, 6994, 7001, 7134, 7171, 7381, 7492, 7793, 7799, 7825, 7830, 7876, 7967, 8064, 8177, 8386, 8429, 8514, 8539, 8707, 8724, 8981, 9233, 9430, 9435, 9578, 9596, 9615, 9688, 9833, 9911 | ₹8,000/- |
| 6th Prize | Ending With: 0075, 0109, 0180, 0186, 0224, 0470, 0478, 0491, 0522, 0666, 0676, 0711, 0779, 0818, 0833, 0843, 0935, 0995, 0999, 1033, 1062, 1224, 1381, 1431, 1447, 1494, 1499, 1614, 1652, 1740, 1751, 1776, 1798, 1835, 1988, 2114, 2154, 2184, 2253, 2323, 2334, 2337, 2443, 2531, 2538, 2684, 2756, 2946, 2975, 3124, 3131, 3208, 3271, 3449, 3468, 3469, 3520, 3559, 3603, 3609, 3615, 3688, 3716, 3774, 3838, 3887, 3906, 4006, 4116, 4217, 4269, 4364, 4445, 4557, 4587, 4605, 4707, 4723, 4737, 4792, 4818, 4840, 4880, 5041, 5078, 5219, 5375, 5437, 5492, 5562, 5638, 5684, 5741, 5783, 5867, 5922, 6049, 6294, 6334, 6358, 6391, 6405, 6523, 6606, 6618, 6638, 6732, 6746, 6838, 6854, 6874, 6988, 7026, 7040, 7058, 7091, 7258, 7261, 7269, 7673, 7678, 7761, 7798, 7802, 7935, 7988, 8086, 8248, 8262, 8420, 8456, 8549, 8614, 8661, 8740, 8802, 9018, 9022, 9040, 9235, 9258, 9368, 9403, 9604, 9646, 9687, 9724, 9747, 9781, 9841 | ₹7,000/- |