Baisakhi Bumper Lottery Results
Sikkim Baisakhi Bumper Results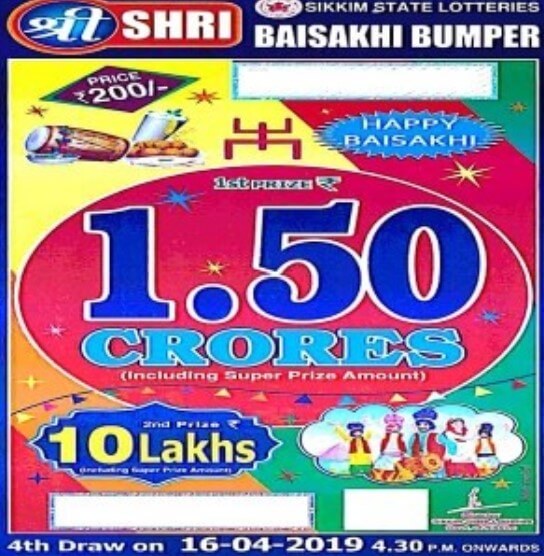 The Baisakhi Bumper Lottery takes place in April in Sikkim State, India. Tickets cost Rs 200 each and are usually sold in two series lettered A and B with five digits from 00000 to 99999
The first prize is Rs 1.50 Crores with a second prize of 10 Lakhs also being awarded to one lucky winner. There's 20 prizes in the third tier of Rs 9,000 and another 200 in the fourth, fifth, sixth and seventh winning tiers. The gross value of tickets printed is over 2 Crores.
These are the results from recent Baisakhi Bumper draws.
Remember, winners have only 30 days in which to claim their prize and to provide proof of ownership of the ticket and proof of identity, so check your results as soon as possible.
This is the full prize breakdown for the top seven prize tiers in the 2019 drawing which will take place on 16/04/2019. This is the 4th drawing of the Sikkim Baisakhi draw.
Sikkim Baisakhi Bumper Results 2019

| Rank | Ticket Numbers | Prize Amount (Rs) |
| --- | --- | --- |
| 1st | A 69014 | 1.50 core |
| 2nd | A 66792 | 10 Lakhs |
| 3rd | Ending 03334, 03881, 22436, 26985, 35340, 38525, 46985, 50802, 51444, 93679 | 9,000/- |
| 4th | Ending 0599, 1058, 4629, 5735, 6545, 7596, 7624, 8086, 8536, 9073, | 5,000/- |
| 5th | Ending with 4773, 5126, 5241, 5377, 5391, 5651, 8388, 9120, 9432, 9441 | 3,000/- |
| 6th | Ending with 0953, 1333, 1608, 4092, 6397, 6466, 6596, 7747, 8508, 8546 | 2,000/- |
| 7th | Ending with 3672, 4417, 5290, 5627, 5638, 5670, 6236, 6864, 8582, 8880 | 1000/- |
| 8th | Ending with 0345 2042 2647 3362 4363 5313 6353 7177 8813 9518 0373 2144 2792 3560 4556 5371 6426 7395 8847 9543 0477 2206 2827 3571 4715 5400 6557 7442 8945 9683 0635 2260 2951 3795 4718 5463 6592 7520 9004 9696 1157 2286 2991 3823 4929 5701 6749 7546 9060 9754 1267 2325 3088 3855 5026 5765 6764 7606 9154 9860 1299 2362 3108 3922 5093 5772 6908 7953 9298 9861 1879 2412 3109 4136 5166 5857 6982 7970 9299 9886 1896 2429 3184 4166 5287 6347 6991 8204 9415 9933 1967 2614 3357 4259 5299 6350 7030 8585 9489 9957 | 500/- |