Dear Kali Puja Bumper Results
Dear Kali Puja Bumper Results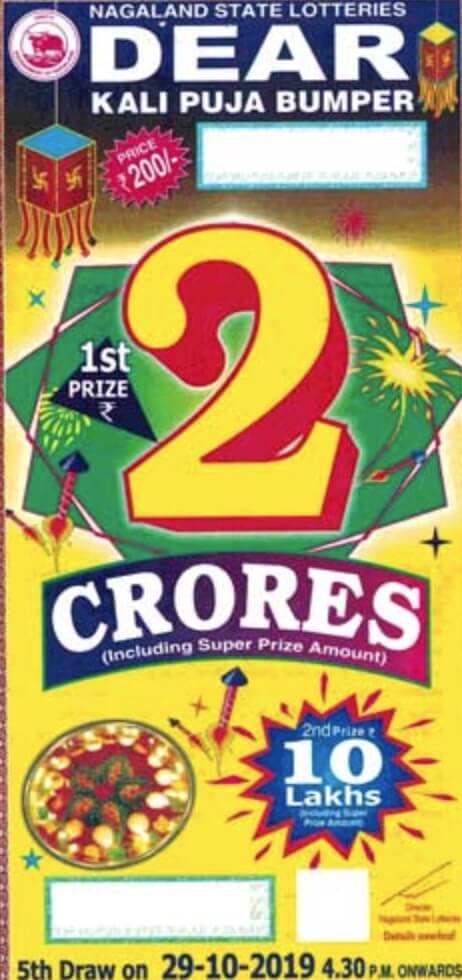 Here are the results for the Dear Kali Puja Bumper Lottery in Nagaland State for 2019. You'll find all the winning ticket numbers, the rank of prize and the amount in Rupees.
The Dear Kali Puja Bumper Lottery offers a first prize of Rs 2 crore for a ticket price of Rs 1,000. The draw takes place in Octoober each year. Tickets are avalable in five series, A, B, C, D and E
The top-level results and prizes are given in the tables below.
Advertisements
Do you want to play lotteries online? Download a VPN and follow the instructions here.
Dear Kali Puja Bumper Results for 2019
The 2019 drawing of this Dear Kali Puja Bumper lottery will take place on 29th October 2019 with the numbers being drawn at 4.30pm. This year the jackpot prize is Rs 2 crore, with a second prize winner receiving Rs 10 lakhs. There will be 50 third prizes of Rs 9,000 each and 350 fourth prizes of Rs 5000 each. Tickets for the 2019 Diwali Bumper cost Rs 200/- each.
Dear Kali Puja Bumper Results for 2019

| Rank | Ticket Numbers | Rakhi Prize Amount (Rs) |
| --- | --- | --- |
| 1st | TBC | 2 core |
| 2nd | TBC | 10 Lakh |
| 3rd | TBC | 9,000 |
| 4th | Ending with TBC | 5,000 |
| 5th | Ending with TBC | 3,000 |
| 6th | Ending with TBC | 2,000 |
| 7th | Ending with TBC | 1,000 |
| 8th | Ending with TBC | 500 |