Kali Puja Bumper Results
Kali Puja Bumper Lottery Results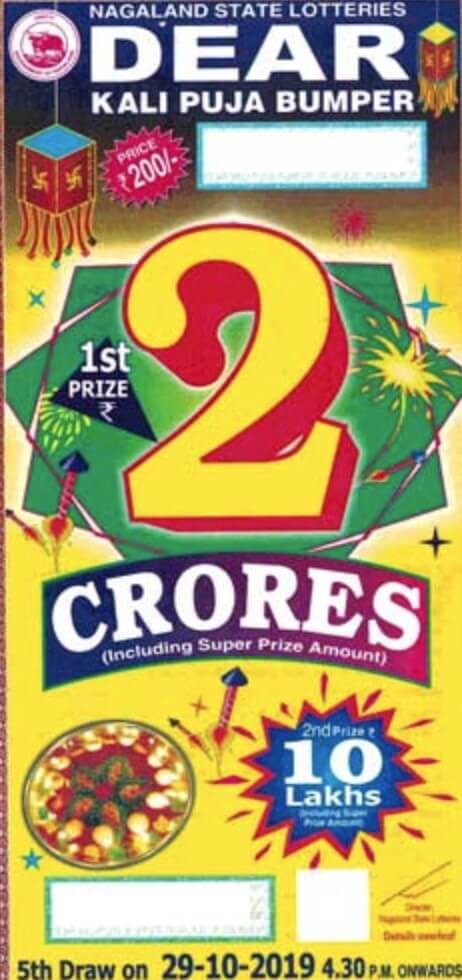 Here you can find the results for the Kali Puja Bumper Lottery that is run in Nagaland State in October. You'll find all the winning ticket numbers, the rank of prize and the amount in Rupees for the most recent draw and past draws of the Kali Bumper Lottery.
The Dear Kali Puja Bumper in Nagaland has been replaced with the Durga Puja Bumper from 2021
The Dear Kali Puja Bumper offers a first prize of Rs 2 crore for a ticket price of Rs 200. Tickets are available in five series, A, B, C, D and E and are numbered from 00000 to 99999. You can win prizes on your ticket for matching the top few tiers in a single series, but most of the prizes are won regardless of what series you are in as long as you match the numbers.
The Dear Kali Puja Bumper in Nagaland did not take place in 2020, and it hasn't been decided whether it will run in 2021. If there is a draw date in 2021 then you will find the results here, alongside the previous ones below. The Nagaland Dear Diwali Bumper takes place in November, shortly after the Kali Puja Bumper normally takes place.

Mega Millions
Tuesday 28th March 2023
$322 Million
Did you know you can play Mega Millions online from USA? Just click the button below!
Time left:
Play Now
Dear Kali Puja Bumper Results for 2019
The 2019 drawing of this Dear Kali Puja Bumper lottery took place on 29th October 2019 with the numbers being drawn at 4.30pm. This year the jackpot prize was Rs 2 crore, and you can find the remaining results in the table below:
29/10/2019
Dear Kali Puja Bumper Results for 29-10-2019

| Rank | Ticket Numbers |
| --- | --- |
| 1st | B 13545 |
| 2nd | C 16128 |
| 3rd | Ending With: 26780, 29777, 37154, 39627, 40050, 45059, 45242, 52773, 74435, 76459 |
| 4th | Ending With: 1213, 1381, 2661, 4094, 4932, 5070, 6888, 8015, 9741, 9757 |
| 5th | Ending With: 0490, 0525, 1409, 1523, 2039, 2063, 2257, 3207, 4112, 4346, 4893, 5034, 5129, 5145, 5297, 6206, 8265, 8982, 9036, 9154 |
| 6th | Ending With: 0110, 0917, 1093, 1302, 1605, 1922, 2108, 2553, 2596, 3810, 3973, 4308, 4728, 4859, 4892, 5495, 7017, 7554, 8369, 9686 |
| 7th | Ending With: 0914, 0950, 1220, 1288, 2505, 2833, 3346, 3693, 4195, 5568, 5910, 5942, 6592, 7019, 7189, 7314, 8254, 8278, 9124, 9906 |
| 8th | Ending With: 0033, 0057, 0197, 0279, 0400, 0427, 0530, 0536, 0539, 0553, 0624, 0632, 0649, 0681, 0858, 0916, 0927, 0980, 1005, 1061, 1133, 1207, 1233, 1234, 1282, 1370, 1435, 1670, 1705, 1932, 2012, 2141, 2200, 2213, 2250, 2260, 2295, 2314, 2337, 2399, 2489, 2513, 2543, 2671, 2751, 2776, 2832, 2838, 2841, 2875, 2923, 2928, 2939, 3049, 3055, 3161, 3232, 3315, 3322, 3377, 3526, 3604, 3677, 3784, 3870, 4022, 4118, 4239, 4311, 4336, 4364, 4367, 4385, 4442, 4462, 4599, 4692, 4701, 4779, 4810, 4830, 4850, 4886, 4894, 4970, 5002, 5006, 5023, 5050, 5097, 5098, 5104, 5138, 5327, 5352, 5354, 5410, 5460, 5489, 5503, 5530, 5534, 5598, 5636, 5703, 5725, 5762, 5854, 5953, 5969, 5983, 6080, 6083, 6116, 6323, 6350, 6361, 6382, 6443, 6559, 6560, 6591, 6755, 6820, 6863, 6955, 6958, 6965, 6966, 7006, 7052, 7070, 7090, 7122, 7257, 7258, 7323, 7324, 7325, 7358, 7451, 7464, 7488, 7493, 7495, 7496, 7505, 7545, 7591, 7596, 7688, 7700, 7781, 7796, 7844, 7846, 7978, 7994, 8087, 8105, 8121, 8133, 8168, 8263, 8319, 8340, 8400, 8417, 8443, 8499, 8513, 8549, 8621, 8697, 8743, 8774, 8788, 8811, 8841, 8847, 8887, 8907, 8991, 9049, 9084, 9106, 9117, 9130, 9158, 9343, 9373, 9430, 9529, 9570, 9590, 9595, 9760, 9853, 9864, 9870 |
29-10-2019 Prizes

| Rank | Prize Amount |
| --- | --- |
| 1st | ₹2 Crore |
| 2nd | ₹10 Lakh |
| 3rd | ₹9,000/- |
| 4th | ₹5,000/- |
| 5th | ₹3,000/- |
| 6th | ₹2,000/- |
| 7th | ₹1,000/- |
| 8th | ₹500/- |