Nava Kerala Results
Nava Kerala Lottery Results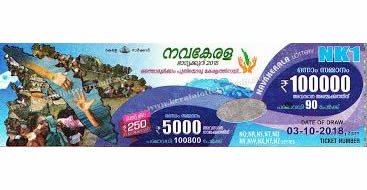 These are the results of the Nava Kerala Lottery, which was run to raise funds for rebuilding works after the 2018 flooding in the Kerala State. Tickets were sold at a face value of Rs 250. The prize structure for this lottery were lower than normal, so that more of the funds raised could go into relief efforts.
There were 90 first prizes of Rs 1 Lakh and 100,000 runners-up prizes of Rs 5,000.
Many exceptions were made for the Nava Kerala lottery, such as allowing residents of the state to become ticket sellers with a free temporary 'agency'.
NK1 Results
NK1, the first drawing of Nava Kerala, was due to take place on 3rd October 2018, however the Kerala State Lottery authorities decided to move the draw to 15th October at 2pm - no reason was given!
Remember, NK winners have only 30 days in which to claim their prize and to provide proof of ownership of the ticket and proof of identity, so check your Nava Kerala results as soon as possible.
Nava Kerala Lottery results

| Prize (Rs.) | Winners |
| --- | --- |
| 1 Lakh | 27491 |
| 5,000 | 0040, 0146, 0182, 0449, 0610, 0828, 0879, 0895, 0942, 0992, 1023, 1112, 1146, 1161, 1456, 1791, 1894, 2009, 2119, 2123, 2130, 2146, 2403, 2603, 2842, 2863, 2937, 2965, 3136, 3171, 3219, 3317, 3318, 3331, 3504, 3539, 3569, 3863, 3962, 3978, 4019, 4222, 4325, 4412, 4693, 4780, 4861, 4896, 4902, 4905, 4946, 5072, 5447, 5461, 5630, 5772, 5781, 6027, 6108, 6166, 6182, 6203, 6301, 6342, 6370, 6452, 6462, 6485, 6489, 6566, 6578, 6830, 6836, 6868, 6881, 6990, 7180, 7203, 7215, 7457, 7460, 7462, 7586, 7663, 7718, 7759, 7770, 7909, 7985, 8230, 8539, 8588, 8621, 8949, 9050, 9053, 9175, 9218, 9221, 9352, 9399, 9420, 9436, 9513, 9558, 9564, 9583, 9593, 9862, 9894, 9957, 9992 |