Shri Holi Bumper Lottery Results
Shri Holi Bumper Lottery Results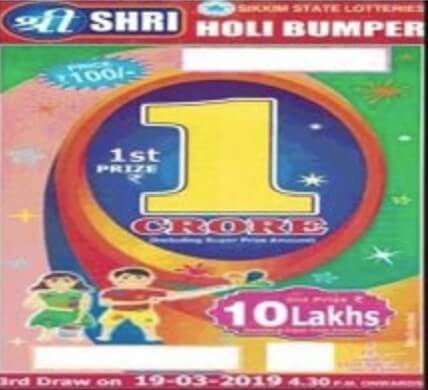 The Shri Holi Bumper Lottery takes place in March in Sikkim State, India. Tickets cost Rs 100 each and are usually sold in just one series numbering 40 000 to 99 999 and with the letters A B C D or E.
The first prize is an impressive 1 Crore with a second prize of 10 Lakhs also being awarded. There's even 50 prizes in the third tier of Rs 9,000. The gross value of tickets printed is 3 Crores.
These are the results from recent Shri Holi Bumper draws.
Advertisements
Do you want to play lotteries online? Download a VPN and follow the instructions here.
Remember, winners have only 30 days in which to claim their prize and to provide proof of ownership of the ticket and proof of identity, so check your results as soon as possible.
This is the full prize breakdown for the top seven prize tiers in the 2019 drawing, dated 19/03/2019. This is the third Shri Holi draw.
Shri Holi Bumper Results 2019

| Rank | Ticket Numbers | Prize Amount (Rs) |
| --- | --- | --- |
| 1st | A 94304 | 1.00 core |
| 2nd | D 52537 | 10 Lakhs |
| 3rd | Ending 53700 58880 61017 62010 62210 77072 80520 82982 95551 95828 | 9,000/- |
| 4th | Ending 47949 50132 64750 66168 67521 69799 71102 79364 92994 97351 | 5,000/- |
| 5th | Ending with 0270 0731 0834 1370 2610 3661 4586 6404 8062 8755 | 2,000/- |
| 6th | Ending with 1748 2314 2835 2855 3576 5009 5090 6066 8873 9419 | 1,000/- |
| 7th | Ending with 0106 0217 0397 1814 2048 2238 2718 3340 4094 4739 4754 5029 6436 6763 7048 7367 7661 7952 8088 8224 | 500/- |
| 8th | Ending with 0090 1058 2791 3623 4856 5533 6197 6990 8209 8906 0152 1248 2889 3632 4949 5631 6307 6995 8307 8922 0232 1538 3072 3676 4967 5636 6313 7041 8345 8947 0266 1574 3090 3742 5048 5695 6389 7621 8519 9146 0324 1661 3215 3828 5112 5727 6561 7876 8674 9520 0432 2004 3218 4307 5120 5729 6577 7877 8706 9856 0693 2304 3342 4381 5303 5876 6582 7929 8730 9880 0820 2478 3424 4519 5379 5994 6726 7956 8731 9933 0870 2511 3441 4681 5450 6118 6758 8070 8820 9980 1057 2789 3615 4716 5491 6121 6825 8133 8841 9984 | 300/- |